Q&A: Milwaukee Panthers guard, Akeem Springs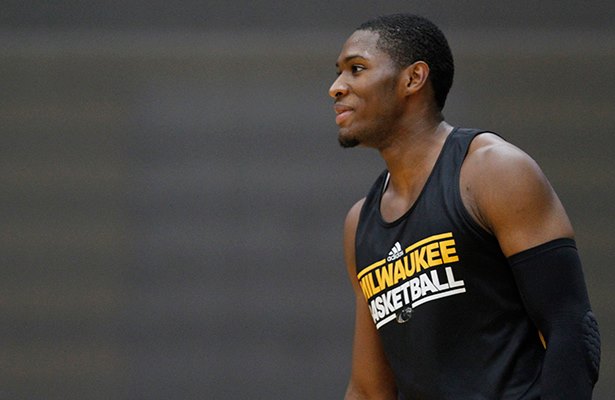 Jordan Aaron was a major reason for the Milwaukee Panthers success last season. Despite his size, he was able to take over in games, dominating opposing defenses, scoring nearly 15 points per contest a year ago. It will not be easy for head coach Rob Jeter to replace this offensive production, but one player who is more than capable of doing it, is sophomore guard Akeem Springs.
Springs had to sit out all last season after transferring from Northern Illinois University in the summer of 2013. In his lone season with the Huskies, Springs averaged 7.7 points and 2.9 rebounds per game despite playing roughly 20 minutes per game.
Springs is now rested up and ready to go for the Panthers this season. He is a big, athletic guard with excellent athleticism who plays well on both sides of the ball, and has the potential to be a reliable contributor for Milwaukee.
Recently, I had the opportunity to sit down with Springs, and he reflected on his decision to transfer to Milwaukee and his expectations for this season.
What originally drew you to Milwaukee when you were looking to transfer from Northern Illinois?
Defiantly the coaches. I loved Jeter and Coach Conroy. The reason I didn't come here right away is because they really came late in the recruiting process, but I liked the relationship I built with Coach Conroy. Another thing that interested me was Latrell Fleming (Panthers video coordinator in 2012-13). I actually knew him since I was a little kid, and he told me it was a good program. That is what drew me to Milwaukee.
You redshirted last season, how tough was it to sit out and not be able to play organized basketball?
I usually plan my school days around basketball, so it was pretty frustrating not being able to get into the gym. Not being able to do anything because of my surgery, that was the hardest part. But, at the end of the day I think it was a blessing in disguise because I got to look forward to being able to play. It was tough especially with the run we had last year, I really wanted to be apart of it, at times I really didn't feel like I was apart of it, but I think my coaches and teammates did a good job making me feel apart of the team.
What did you work on this offseason to get ready for the season?
First of all just getting my shoulder back intact because for three plus years I never used my left hand because I was so scared that something would happen to it. Really just working on being a more consistent shooter. Also things that you really don't do on the court – making sure I have a lot of energy and making sure I'm talking during practices. Those are the biggest things I worked on.
Your team is filled with talented guards, how do you see yourself fitting into the rotation?
I just see myself fitting in where ever I can. We are really deep. If we get tired I think it will be good for us to be able to play as a committee. We are so deep, we're athletic and we can all defend. I think that is how we will do as a unit. And me, I can play any of the three guard positions, and I'm starting to play the four too.
What is going to be the most important thing for your team to do well and hopefully win the regular season conference title?
If the team buys in, listens and stays as a team, we will be fine. We have a lot of young guys that will contribute a lot, and people who didn't play a lot last year, like Trinson White, JeVon Lyle and I. The biggest thing for us is to just make sure we buy in and stay as a team.
Springs has experience playing at the Division I level, and that will be key to his success this season as he is expected to receive a lot of playing time. He has all the skills to be an excellent guard for the Panthers, and if he can stay healthy while continuing to develop, he has the potential to be an excellent player for Milwaukee for the years to come.