Milwaukee Panthers Women's Sports Roundup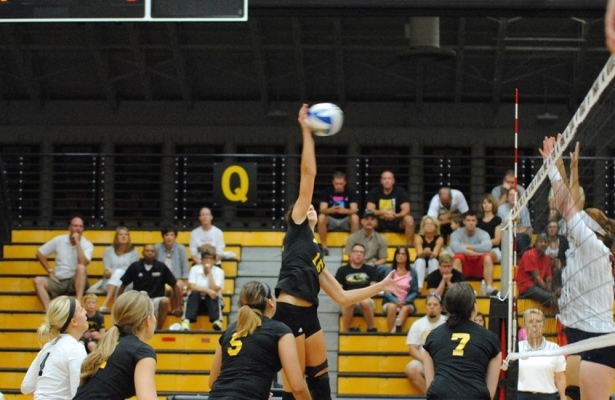 October has come and gone, and this past week the Milwaukee Panthers women's soccer team finished up their season, while the volleyball squad had one Horizon League contest against their instate rival.
The women's soccer team played their final game of the 2014 season on a chilly Friday afternoon in Detroit, Mich. against the Titans. Three seniors were able to score in their final collegiate match, leading the Panthers to a 3-1 victory.
Krissy Dorre, Morgan LaPlant and Amy Kauffung all scored, snapping the Panthers' scoring drought at an unbelievable 442 minutes, which dates back to their game on October 4 against Cleveland State.
Although it was a challenging season for Milwaukee, this was an excellent way to end the season with a victory. It will be a long offseason, as this program isn't use to not participating in postseason soccer. But, next season the Panthers should be improved, as they will return many talented players who now have another year of experience under their belts.
With the regular season coming to a close, the Horizon League season awards were also announced. Dorre and LaPlant were named to the All-Horizon League First Team, while sophomore Maria Stephans was selected to the Second Team. Cassidy Blanchard and Anna Smalley were named to the All-Freshman team.
The Panthers volleyball team also only had one match this past week, taking a quick trip north to face the Green Bay Phoenix on Halloween night. Milwaukee dominated the match, holding Green Bay to an incredible .044 hitting percentage, as they swept the Phoenix in three-straight sets (25-20, 25-10, 25-21).
Julie Kolinske led the way, registering 18 kills, while Maggie Dunbar was also in double-figures in kills with 11. Kayla Price continued her excellent play; recording 41 assists on the night. Taylor Golabowski led the Panther defense with 12 digs.
This was an impressive win by Milwaukee, as they played well in all phases of the game. With this conference win, the Panthers were able to keep pace with the Oakland Golden Grizzlies for first place with an 8-2 record.
Milwaukee will have a challenging week ahead with three matches over a five-day span beginning on Tuesday evening at home against cross-town rival Marquette. The Panthers will return to Horizon League play this weekend with home matches against Youngstown State and Cleveland State.
It is hard to believe that the women's soccer season has come to a close and that the volleyball team only has a couple weeks left in their regular season. It has been an exciting fall despite the mixed results, and before you know it the women's basketball season will be underway. Make sure to come down to the East Side, to cheer on the volleyball team this week because they will be taking part in some challenging and competitive matches.
Stay tuned next week for the eleventh edition of the Milwaukee Panthers Women's Sports Roundup to be up to date on everything happening with these two successful programs.