Porcaro poised for another great season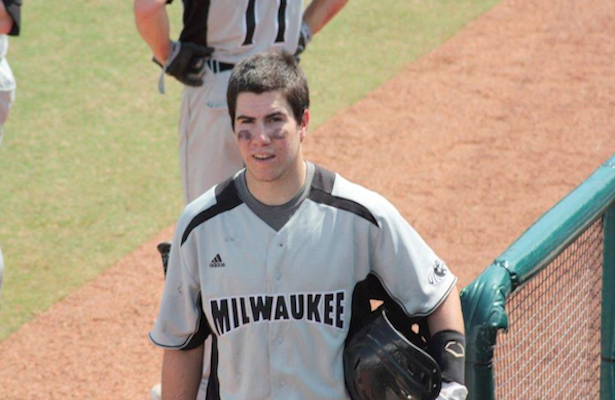 Once a preferred walk-on for the Milwaukee Panthers, no one expected Mike Porcaro to put up the kind of numbers he did a season ago. Not only did he lead the Horizon League with a .364 batting average while hitting one homerun and driving in 43 RBIs, but he was also named the conference Player of the Year.
This was not the only award he won, as he was also named to the American Baseball Coaches Association/Rawlings Division I Mideast All-Region First Team, and became the first Louisville Slugger All-American for the Panthers since Mike Goetz in 2006.
Even though he won all of these accolades, and was selected as the Horizon League Preseason Player of the Year by the coaches this season, Porcaro says that there is "not really" any pressure on him to produce at the same level he did last year.
"We have an experienced lineup and it makes it easier for you because you know you have guys behind you to back you up if you aren't having a good game," said Porcaro. "I know if I don't have as good of games, we have a nine deep lineup, every single guy is going to be able to hit, and we are four deep on the bench at least. I am just trying to go out there and have fun, and do the same thing I did last year."
It will not be an easy task for Porcaro to repeat those impressive numbers he put up last season, but with his hard work and dedication to the game, it would not be a surprise if he did.
This offseason Porcaro did some fine-tuning on his swing and continued to get stronger as he tries to have another successful year.
"I went into the weight room, pretty much doing what I have been doing for the last three years. Just trying to get my body healthy," said Porcaro. "I have been working on my swing a little bit; tuning some things up, making sure I am staying quiet in the back and relaxed. Other than that, just trying to get stronger and stay healthy."
Porcaro is a huge asset to the Panthers, as he plays solid defense and is an excellent hitter. Even though Porcaro would like to have another season like he did a year ago, he already has his eyes set on winning the Horizon League Tournament Championship at home this season.
"That would be sweet winning it at home," said Porcaro. "Each week, each game, taking it one game at a time, and trying to get better is what I think is really the key."
Porcaro is an excellent player, and he is going to give the Panthers everything he has in order for them to have another terrific year. Hopefully he and the Panthers can have another tremendous season, with Porcaro being selected as an All-American and Milwaukee making a NCAA Tournament appearance.