Panthers, Flames will square off on Senior Night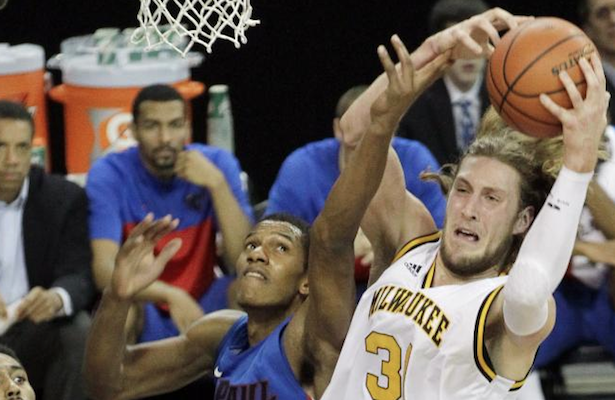 UIC Flames (5-23, 0-14) vs. Milwaukee Panthers (16-12, 6-8)
Location: U.S. Cellular Arena – Milwaukee, Wisconsin
Time: 7:00 p.m. CST
Broadcast: TV: HLN (HorizonLeague.com); Radio: WISN-AM1130
Can you believe it is already Senior Night? The Milwaukee Panthers will try to end their three-game losing streak against the UIC Flames, while they also honor six seniors Tuesday evening.
Jordan Aaron, Kyle Kelm, Thierno Niang, Malcolm Moore, Mitch Roelke and Quinton Gustavson will all be honored for their time spend with the Panthers.
Aaron will be available for the game, but it is still an unknown how much playing time he will receive after being suspended the last three games for violating team rules.
Earlier this season these two teams met in Chicago, and the Panthers were able to overcome a 13-point halftime deficit to knock of the Flames 67-63.
UIC has been horrendous this season as they are currently on a 17 game losing streak. Their offense is averaging 66.7 points per game while making 42.2 percent of their shots, while their defense has struggled allowing 73.2 points per contest on 47 percent shooting to their opponents.
The Flames have not had really any players step up this season, but their best player has been Kelsey Barlow. The senior guard is averaging 14.6 point on 38.5 percent shooting, while grabbing nearly five rebounds per game.
He will be joined in the starting lineup by guards Markese McGuire, Pat Birt and Marc Brown, and forward Jordan Harks.
It will be unknown once again if Aaron will be starting, and if he does not; who knows whom Rob Jeter will be throwing out there. Besides that, you will see Steve McWhorter, Austin Arians, Matt Tiby and Kyle Kelm all in the starting lineup.
While many people think the Panthers will for sure win this game because the Flames have not won a single game in conference, do not be surprised if this game is close. Over the last three games, the Panthers have looked awful, and even with Aaron back, they will still struggle. Milwaukee is fading fast, and if the Panthers want to have any chance at getting the fifth seed they need to win this game.