Pearl pounces on new opportunity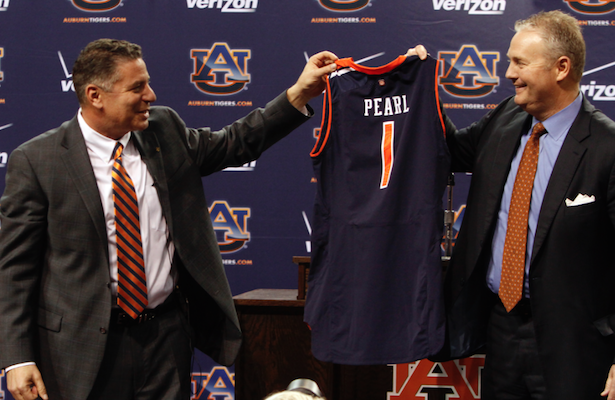 After the first back-to-back winning seasons in nearly a decade of Milwaukee Panthers men's basketball, interest was beginning to grow. The program was given a bolt of energy from Bo Ryan in his two seasons as the Panthers' head coach. With his departure to Wisconsin, the athletic department was seeking someone to take the program to the next level.
On April 11, 2001 the Panthers found their guy. On a calm spring afternoon as UW-Milwaukee Chancellor Nancy L. Zimpher stood at a podium in Greene Hall on Milwaukee's campus, it was announced that Bruce Pearl had been named the 19th head men's basketball coach in Milwaukee's history.
Pearl came to Milwaukee from the University of Southern Indiana where he molded their program into a Division II powerhouse winning a National Championship and compiling an overall record of 231-46 in nine seasons.
This was a perfect hire by Athletics Director Bud Haidet, who brought in a proven winner and someone who could represent the university in a positive fashion.
Pearl did just that in his four seasons at the helm of the Panthers men's basketball team. Not only did he put a winning product on the court, building Milwaukee into one of the top mid-major programs in the country, but he also was one of the most recognizable sports figures in the city.
Each year attendance continued to rise in Pearl's tenure as he was responsible for the Panthers moving to the U.S. Cellular Arena, while recruiting some of the top players in Panther basketball history.
His great passion and enthusiasm for Panther basketball caused players to line up for the opportunity to play for Coach Pearl.
He assembled some of the greatest teams in Panther history featuring many talented players including Joah Tucker, Ed McCants and Boo Davis as his teams represented themselves and the university in a positive light.
"The biggest thing I remember more than anything are my players," Pearl said. "We had great chemistry, we had a great bond, we had great talent and those guys represented UWM."
As a team they built something special at Milwaukee. In Pearl's time with the Panthers, he won an impressive 86 games including a school-record 26 in 2005, while appearing in the NCAA tournament twice.
Of course Pearl and his 2004-2005-squad are best known for making a marvelous run to the Sweet 16 as the 12th seed in the NCAA tournament.
Following this dream run by the Panthers, Pearl moved on to new challenges as he became the head coach at Tennessee where he stayed for six seasons.
Now almost 10 years after leading the Panthers to heights it had never seen before, Pearl is trying to do the same for the Auburn Tigers as he agreed to a six-year, $14.7 million deal in March.
The decision to return to coaching and to tackle the challenges of taking Auburn's basketball program to the next level is something Pearl is excited to do.
"I care about SEC basketball, just like I always did in Milwaukee and cared about the Horizon League," Pearl said. "I had a chance to do something about that when I was at Tennessee. So to come back to the SEC was important to me.
"I think Auburn is a great fit for myself and my family. They want me here and I want to be here. This program hasn't been to the NCAA tournament in 11 years – we got work to do."
While Pearl does not know how long it will take he does know that Auburn "will be nationally relevant."
It will not be an easy task for Pearl to turn Auburn into a nationally relevant program right away as the Tigers were only 14-16 last season including 6-12 in the SEC, but he will begin this quest against his former team – the Milwaukee Panthers.
"The thought of playing Milwaukee was something that we had talked about and considered," said Pearl. "It just so happened that Milwaukee was part of this field and that just made this more attractive."
This will be a highly anticipated matchup for both schools as they begin their 2014-15 season. This will especially draw some extra attention in Milwaukee, as this will be the first time Pearl matches up against the Panthers in his career.
One thing I am sure Panther fans are already wondering is if the Tigers will make a trip to Milwaukee the following season to play a nonconference matchup against the Panthers. While nothing is official yet, Pearl stated it could be a possibility.
"I would love to come and play in Wisconsin," Pearl said. "Is it possible that we would be playing at UWM? I would not rule that possibility out."
If Milwaukee and Auburn were able to figure out a way to get Pearl and Co. to travel to the Brew City for a nonconference contest, it would most likely be a record setting night in attendance for the Panthers at the U.S. Cellular Arena.
The morning following the Panthers' agonizing defeat to Illinois in the Sweet 16, Pearl agreed to a deal to become the new head coach at Tennessee. Panther fans where unable to thank him for all of his amazing contributions to the basketball program and university in general, and it would be shocking if people did not line up to see a Panther basketball legend return to where his career began.
Coach Pearl has always been a terrific basketball coach and a dynamic leader. He has also been a terrific ambassador for every university he has been apart of.
Who knows how long Pearl will be a college basketball coach, but whenever he decides to call it quits, he will be remembered for his great contributions on and off the court.
"I'd like to be remembered as a player's coach – someone that really cared about the players," said Pearl. "I'd like to be known as a staff member that cared about the university that I was working for, and did more than just winning basketball championships, but made a difference in student's lives and in the community."