Panthers look to retain LeWang Trophy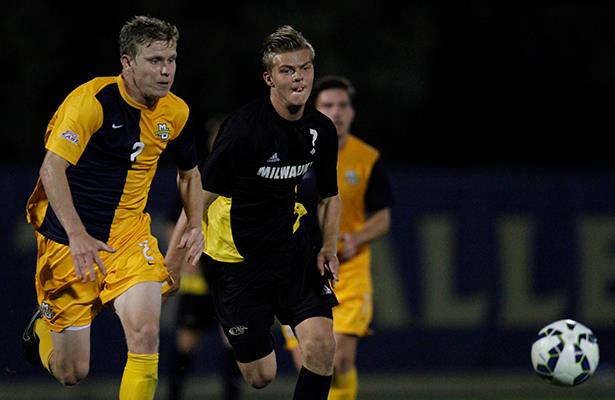 After being on the road for over two weeks, the Milwaukee Panthers (3-4-0) will return to classic Engelmann Stadium to battle it out with the Northern Illinois Huskies (2-3-2) for the LeWang Trophy on Tuesday evening.
Since 1981, these two programs have played for the trophy, named in the honor of John LeWang, who was tragically killed in a car accident. LeWang was an assistant at Milwaukee before become the head coach at NIU in 1980, spending a season at the helm, before his death.
The Panthers have had the upper hand in recent years between these two teams, winning the past three meetings dating back to 2011, after the Huskies held a five-game winning streak from 2006-10.
The Huskies are coming off of a tough 2-0 loss against the Marquette Golden Eagles at home. Prior to being defeated by the Golden Eagles, the Huskies knocked off then #23 UIC, 1-0, about 10 days ago, while tying Green Bay 2-2 in double-overtime this past Sunday.
Northern Illinois returns eight starters from a season ago, including leading scorer Isaac Kannah, who was an All-MAC Second Team selection after scoring six goals in 2013. Kannah has continued from where he left off last season, leading the Huskies with two goals on the season.
Chris Paton has also been a main contributor in the NIU's offensive attack, recording two goals and two assists for six points, while leading the Huskies with 19 shot, nine of them being on goal.
In goal Andrew Glaeser has also had a solid start to the season, playing every minute in goal for NIU. Glaeser has also tallied three shutouts, while holding 1.21 goals against average.
The Panthers are currently sitting on their longest losing streak, three games, since the 2012 campaign. Although they have played three straight ranked opponents, Milwaukee hasn't played well. Offensively they have been held scoreless in all three of those games, while their defense has allowed seven goals. This is a big game for the Panthers as they attempt to turn things around before Horizon League play begins on Saturday.
Milwaukee needs to come out of the gate strong, and take the lead early to give them the momentum right away. This will not be an easy game for the Panthers, as the Huskies have shown that they can beat talented teams. This should be an exciting contest, and hopefully the Panthers will be hoisting the LeWang Trophy when the buzzer sounds.