Milwaukee wins the Horizon League title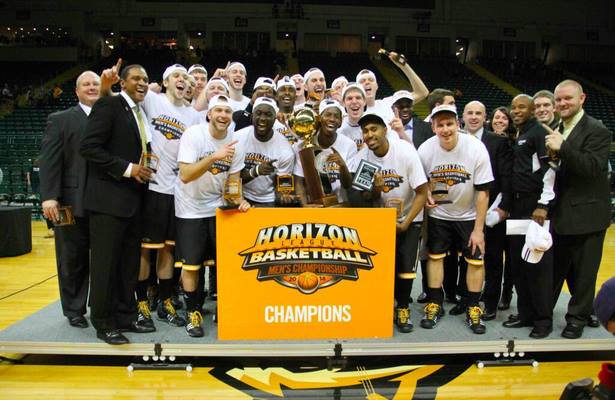 Milwaukee is headed to the Dance! The Milwaukee Panthers are now NCAA Tournament bound after knocking off Wright State in the Horizon League Championship game, 69-63, their first since 2006.
This is an incredible accomplishment for Milwaukee after winning only eight games a year ago, and being predicted to finish last in the preseason poll.
Kyle Kelm led the Black and Gold with 20 points while also adding nine rebounds and two assists. Jordan Aaron had 18, while Austin Arians scored 12 points on 5-8 shooting from the field.
Right from the start Milwaukee had the advantage, never trailing for a single second in this game. After the Panthers led 9-7 with 17:18 left in the half, Milwaukee went on a 12-0 run in the next seven minutes to go up 21-7.
The Raiders went nearly eight minutes without a field goal, as the Panthers extended their lead to 15. They fought back in the final 10 minutes, but Milwaukee still led at the half 43-33.
In the second half the Raiders were able to cut their deficit to four, but with 10 minutes left in the game, Wright State's leading scorer, AJ Pacher, picked up his fourth foul.
Pacher returned late in the game to get the Raiders on a run, as the Panthers only led 67-63 with 1:03.
Milwaukee struggled at times in the second half offensively, but still finished the game shooting 38.6 percent (22-57) from the field and 50 percent (9-18) from behind the arc.
The Panthers also outrebounded the Raiders 35-28, while committing only 10 turnovers in the game.
This was truly a great effort, and a special way to continue their season. No one expected Milwaukee to be where they are tonight, but thanks to a lot of hard work and determination, the Panthers will be headed to the NCAA Tournament. This is a great accomplishment for the team and university, and hopefully the ride lasts for a long time.
Milwaukee will find out their next opponent Sunday afternoon during the NCAA Tournament Selection Show.