Milwaukee shocks the world upsetting Green Bay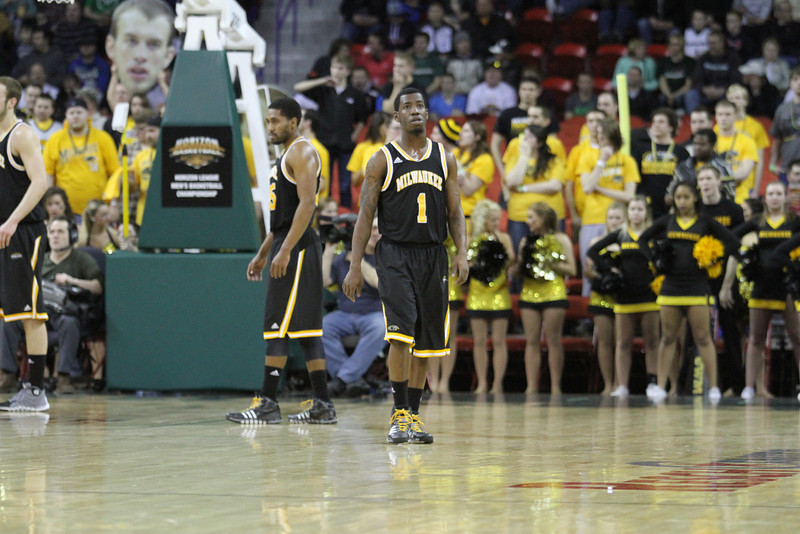 Throughout the entire season no one has taken the Milwaukee Panthers (20-13) seriously, but on Saturday night they shocked the world by beating regular season champion Green Bay 73-66 in overtime, to move within one victory of an automatic berth to the NCAA Tournament.
Jordan Aaron was once again spectacular as he led Milwaukee with 28 points, while only the starting five for the Panthers got in the scoring column. Matt Tiby had 15 points, while Kyle Kelm added 14, and Austin Arians chipped in with 12.
Milwaukee dominated the game early on as the led by as many as 13 points in the first half, but the talented Phoenix squad came back taking a 50-48 lead with 5:33 left in the game. Even down by four with only two minutes remaining, the Panthers still had some fight left as they tied the game on an Aaron layup on their final possession before overtime.
In the extra time Aaron came back to give the Panthers the lead on a free throw make. Solid defense in the final two minutes was key as Milwaukee walked away victorious.
After being picked to finish last this season, Milwaukee has won its 20th game, and has certainly been a nice surprise, but they still have some work to do in the Championship game.
The fifth-seeded Panthers will now travel to Dayton, Ohio to face third-seeded Wright State on Tuesday evening with the game being shown on ESPN.
It has been nine years since Milwaukee has won at Dayton, and if you can remember back that far that was Bruce Pearl's final season with the Panthers as he led the Black and Gold to the Sweet Sixteen that year.
So obviously it will not be an easy place for the Panthers to play at, especially in the environment of a Horizon League Championship game, but Milwaukee has been on fire of late.
These next couple days will be an exciting time for the basketball program as fans are hungry to return to the NCAA Tournament, as now it seems like fond memories of the days the Panthers use to be a top mid-major program.
It will be a long wait till Tuesday, but one thing is for sure let's hope that Panthers are celebrating a victory.