Milwaukee picks up a win against Belmont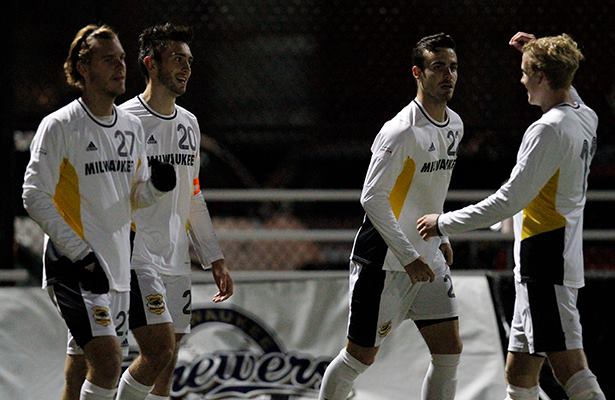 It has been over a month since the Milwaukee Panthers last won a match, but on Saturday evening that streak came to a halt. On a cold, windy evening the Panthers returned to Horizon League action against the Belmont Bruins, winning the competitive match 2-0 with Petter Ingebrigtsen and Laurie Bell each netting a goal.
Liam Anderson also had a solid performance, tallying two saves for his 12th career shutout.
The Panthers (4-7-2, 1-2-1) played well on both sides of the ball against the struggling Bruins, outshooting their opponent 15-8, while also recording three more shots on goal.
Ingebrigtsen, who has had an impressive freshman campaign this season, recorded his fourth goal of the season in the 27th minute, heading in an end-line serve from Aaron Horvat.
Milwaukee had numerous chances in the first 45 minutes of play to score, but at halftime both teams went into the locker rooms with the Panthers holding a 1-0 advantage.
In the 66th minute, Bell recorded his second goal of the season, chipping a long serve over the charging goalkeeper's head.
In the second half, Milwaukee recorded 10 shots compared to only three for Belmont, but Bell was the only Panther able to find the back of the net.
This was a performance the Panthers needed, and with the win, they now move into seventh place in the conference standings. The top six teams make the conference tournament, so they still have some work to do, but tonight's performance was a positive sign. Milwaukee played well defensively, while creating opportunities offensively. With four conference games left in the season, this final month of regular season play should be exciting.
The Panthers will return to the pitch this Wednesday against the first place Oakland Golden Grizzlies at Engelmann Stadium with the game beginning at 7 p.m.