Matuella's ride to the top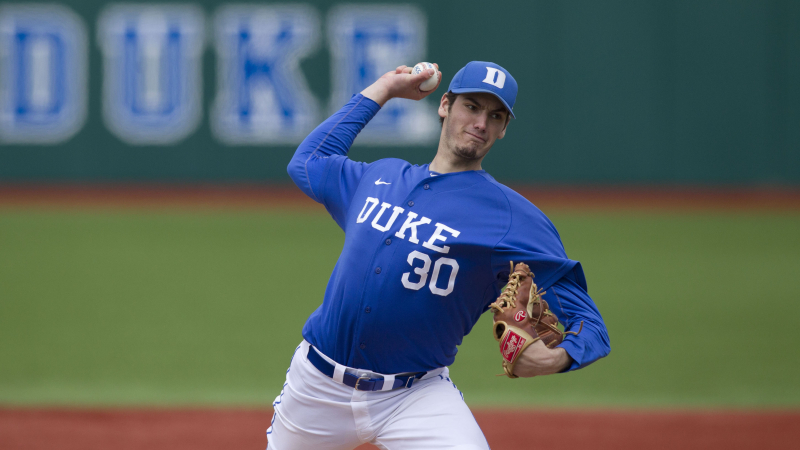 One of college baseball's top pitchers, Michael Matuella, has only won five games in his two-year collegiate baseball career.
But, Matuella's intangibles go far beyond his record. This is what has propelled the 6-foot-7, 220-pound right-hander into the conversation for the first overall pick in June's Major League Baseball Draft.
However, there was a time Matuella wasn't highly sought after. As a high schooler, Matuella was only throwing in the mid-to-upper 80s, and drew little interest from colleges, receiving offers from only Duke and Maryland at the time of his commitment.
"I was looking for a good academic school and a good baseball school," Matuella said. "I loved Duke from the start. I thought it would be a great fit for me. It was pretty easy committing here."
When Matuella arrived at Duke, head coach Chris Pollard and pitching coach Andrew See worked with him to develop an aggressive mentality every time he took the mound in order to make sure he was putting everything he had into every pitch.
Once he did this, his fastball velocity instantly increased, hitting 93 mph during his freshman fall Matuella explained.
Now his fastball tops out at 97-98 mph as he enters his junior season. He throws his fastball as a two-seamer instead of the tradition four-seam fastball, and it has great movement and sink on it.
Besides throwing an overpowering fastball, Matuella has an excellent curveball and slider. He also tosses a solid two-seam changeup, something he said he worked on this offseason to add to his already impressive repertoire.
While, scouts believe he has the highest upside among any college player, one question mark that surrounds Matuella is his health.
After going 4-4 with a 4.53 earned run average in 22 games (7 starts) as a freshman, he moved strictly to the starting rotation last season. He showed glimpses of excellence, posting a 1-3 record with a 2.78 ERA, but he only made 11 starts due to missing four weeks with a back injury.
He also didn't pitch this summer due to the ailment, causing scouts to be concerned about his lack of durability.
MLB.com currently ranks Matuella as the second best prospect in the draft class, but he will need to pitch a full season to prove to scouts that he is 100 percent healthy and worth of a high pick.
However, he isn't worried about what scouts will think of him.
"That is something I can't control what they (scouts) think," Matuella said. "I am feeling great and it comes down to how I'm going to pitch this year. I'm confident I'm going to pitch very well, and as long as I am healthy than I will be fine.
"All the work I put in to getting healthy, and all the work I'm going to continue to put into staying healthy, I think everything is going to be totally fine. I'm not worried about what the scouts are going to think. I'm just worried about how I'm going to prepare for each start."
If he is able to remain healthy for a full season, Duke will have the chance to do something it hasn't accomplished since 1961 – make the NCAA Tournament.
Despite being selected to finish fifth in the ACC Coastal Division, Duke features a strong pitching rotation and has a chance to challenge the favorites in the ACC.
"The ACC is always going to be one of the toughest leagues in the country," Matuella said. "I think we are going to be a very good team like we were last year.
"I think last year was a big step for the program, obviously it didn't end like we wanted it to. We were wishing we were in the NCAA Tournament, but I think we are building off of the team we had last year."
Duke's success will depend on Matuella. If he is able to stay healthy, they should have a legitimate shot at making the NCAA Tournament.
If the Blue Devils are able to do so, not only will it be big for the program, but it will also impact Matuella's draft stock.
Being a professional baseball player has been Matuella's goal since his freshman season at Duke, even though his parents would probably argue otherwise.
"My parents would tell you that I realized that (being a professional baseball player was a realistic goal) back in high school because they seem to recall me saying that back when I was a sophomore," Matuella said.
"I personally don't remember that, but honestly when I got here freshman year that is when I realized that I could potential do something here. That is when I really dedicated myself and it became a huge focus for me."
Scouts will flock to see Matuella take the mound this season, but they will be keeping a close eye on his health and consistency to determine whether he is worthy of a high draft pick.
Matuella's isn't worried about any of the extra attention he will receive this season, and is solely focused on doing his best to put Duke in a position to win. Instead, he knows everything will work out for the best in the end.
"I don't really pay attention to that (extra attention)," Matuella said. "That is something that I can't control. The only thing I can control is how hard I work and what I'm going to do to put my team in a good position to win every time I take the mound.
"All that other stuff kind of serves as a distraction. I really don't care about that. Whatever happens, happens. I know that if I work as hard as I can to put the team in a position to win everything else will take care of itself."