Jordan has potential to be special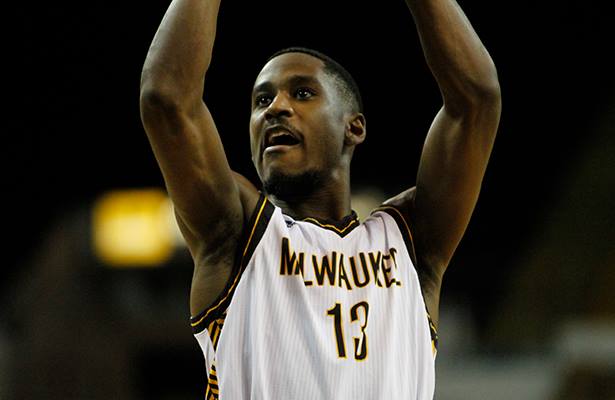 It was a roller coaster ride for the Milwaukee Panthers men's basketball team, all beginning on April 9, 2014 when it was announced that the program would be ineligible for postseason play in 2014-15 because of cumulative Academic Performance Rate (APR) scores.
After making their first NCAA Tournament appearance in eight seasons, this was the last thing Milwaukee needed as all the enthusiasm for the 2014-15 season quickly faded away.
However, one thing that got Panther fans excited was freshman point guard Justin Jordan. The native of Davidson, N.C., Jordan brought in an instant hope for the future to a program that has failed to develop a starting caliber point guard since Ricky Franklin.
Jordan, a true point guard, spent one season at Hargrave Military Academy following high school before committing to play college ball at Milwaukee.
This year at Hargrave allowed him the opportunity to develop his game and get acquainted to living on his own, which helped him transition easier to college he said.
Immediately, Jordan made an impact when he stepped onto the court. In the Panthers' season opener against Auburn, Jordan played 23 minutes off the bench, recording 11 points and three assists.
This performance earned him Horizon League Freshman of the Week honors.
Despite setting high expectations his first collegiate game, Jordan said he didn't put any pressure on himself to continue this high level play on a daily basis.
"I just wanted to go out and have fun and just be the best I could be," Jordan said. "I don't really believe in putting a lot of pressure on myself. I just want to go out and put my best foot forward every night and then let the rest take care of itself."
Jordan produced mixed results while receiving inconsistent minutes throughout the Panthers nonconference schedule. Milwaukee struggled mightily throughout nonconference play, posting an unimpressive 5-11 record.
This was a tough stretch for Jordan and the team, but the Panthers rebounded and went 9-7 in Horizon League action.
"It was definitely the competition (in nonconference play that was the difference)," Jordan said. "We played a strong nonconference schedule. It just felt like going into conference play practice became more intense. Guys would start to go after each other. I think that is where most of our improvement came from was practice."
Jordan started 15 of the Panthers' 30 games, spending the majority of his time at the shooting guard position while manning the backcourt alongside senior point guard Steve McWhorter.
Jordan was expected to be the backup point guard, and was surprised that he received so many minutes in his freshman campaign, especially playing under head coach Rob Jeter who is known to not play freshman frequently.
"I really didn't (expect to play as much as I did) to be honest," Jordan said. "I really came in with the idea that I would be playing most of my minutes at the one behind Steve (McWhorter), but it just so happened I was fortunate enough to get the minutes."
This experience Jordan received should benefit him during his sophomore season when he is expected to take over the starting point guard duties.
"I think getting the experience is going to help me because I know what to expect coming in to my sophomore season," Jordan said. "This year I had no idea what to expect so to have a little experience under my belt and kind of know what to expect will help.
"Also, just being able to get the film from this year I will be able to watch all summer my mistakes and my areas of improvement and learn from them."
While it is still early, he already has in mind what he plans on working on this offseason.
"Definitely working more on my point guard skills," Jordan said. "Just the little things – seeing the floor and running the team. A lot of things Steve (McWhorter) did for us I am going to have to learn and pick up."
Although the Panthers currently have no other point guards on the roster that are capable of unseating Jordan for the starting spot, they will be extremely deep at shooting guard with Akeem Springs, Cody Wichmann, JeVon Lyle, Brock Stull and JayQuan McCloud all vying for playing time.
"We do have a lot of good guards so it's going to be a good competition for us," Jordan said. "I know guys are going to push me everyday and I hope I am able to push them. The end result we should be a better team because of that.
"You want to go up against the tough players because that is how you get better. One of my former coaches use to tell me to be the best you got to beat the best. Personally, I always want to challenge myself because I know that is how I am going to get better."
Jordan put together a solid freshman season despite the team's struggles. Expect him to come back next season even better. Jordan possesses a great work ethic and passion for the game, and if he is able to continue to develop, he has the potential to be a special player at Milwaukee for years to come.