Jordan Anderson works out for multiple teams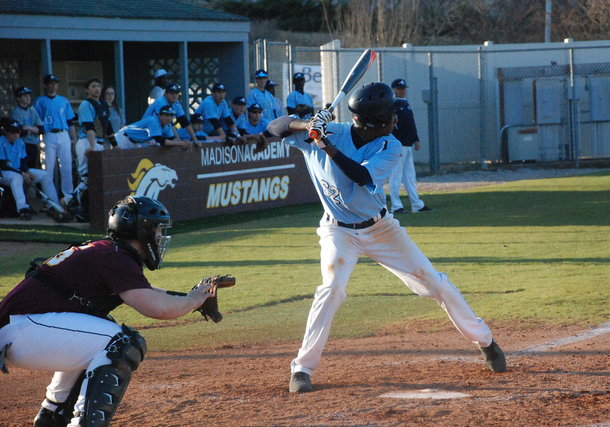 Read my first MLB Draft feature story on talented prep outfielder Jordan Anderson here.
Jordan Anderson was a relatively unknown baseball prospect following his sophomore year of high school in 2015. But just two years later, Anderson could start a professional baseball career this summer, as he's a well-regarded prospect for June's MLB First-Year Player Draft.
Baseball America ranks Anderson as the 34th-best prep prospect in the MLB Draft, which begins on June 12.
In preparation for the draft, Anderson has had pre-draft workouts with multiple teams, including the Kansas City Royals, he said.
"I told people I'll think of the draft maybe like two days before," Anderson said. "It's a lot of pressure for an 18-year-old if you think about it every day and try not to let people down. If everything goes well then great and if not, Mississippi State is a great spot for three years."
Committed to Mississippi State, Anderson knows he's in a win-win situation. If the draft doesn't work out in his favor, he can attend college for three years and reenter the draft in 2020.
"It's a lot easier to know that I have a college that I'm so excited to go to," Anderson said. "Going to college is one of my main things. I want to get a degree. It is great having something to fall back on like that."
A 6-foot-2, 196-pound outfielder, Anderson possesses elite speed and athleticism. His main focus this spring was to improve his approach at the plate. A senior at James Clemens High School in Madison, Ala., Anderson is happy with his development offensively.
"A lot of scouts would ask me in travel ball, 'How come you can hit a 95 mile per hour fastball so well, but struggle hitting the slow stuff,'" Anderson said. "It was just a timing thing. So this season I worked on staying back and trusting my hand. I think I showed an improvement at the plate."
No matter if Anderson jumps straight into professional baseball this summer or attends Mississippi State as a student-athlete beginning this fall, his goal is to improve his strength and power ability at the plate.
"I think I have the tools – speed, power, arm and contact hitter," Anderson said. "The one thing I think I'm lacking in is the power department. I have some, but I'd like to have more. I've been dieting with my mom and doing yoga to get stronger and help my conditioning."
Find more MLB Draft coverage here.
READ: 2017 MLB Draft: Profiles on top prospects
READ: The3rdManIn.com's MLB Draft prospect history