Jordan Anderson bursts onto the scene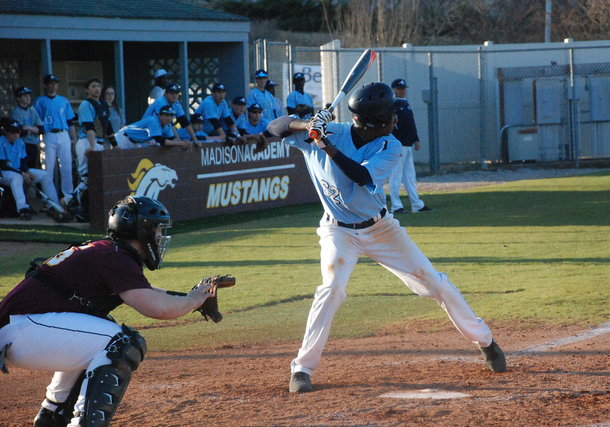 After his sophomore season of high school baseball, Jordan Anderson was a relatively unknown prospect. Although Anderson participated in well-regarded showcase events on the East Coast, he wasn't invited to try out for the prestigious Area Code Games in 2015.
Playing against the best prep competition in the country would've helped the Alabama native receive more exposure, while testing his skills against elite prep talent.
Disappointed that he wasn't invited to play in the 2015 Area Code Games, Anderson used it as motivation to improve.
Anderson's hard work paid off last summer. He participated in the East Coast Pro Showcase, the Area Code Games and in the Perfect Game All-American Game. It was a busy, but rewarding experience on the national showcase circuit Anderson said.
Last summer he also stayed with his travel coach, Jered Goodwin, for three weeks. Goodwin helped Anderson in the batting cage, working with him to drive through the ball.
"Everyday we'd go hit two to three times a day and we really just focused on driving through with the right side," Anderson said. "We also focused on the mental side because baseball of course is a mental game. He's a great coach and person. He really cares about his players and he cares about me. It made me want to work even harder to do good for him."
His performance this past summer, along with his growth as a baseball player, caused his stock to rise drastically. A 6-foot-2, 196-pound outfielder, Anderson possesses elite speed and athleticism.
Baseball America ranks Anderson as the 34th-best prep prospect in the 2017 MLB First-Year Player Draft.
"It has been crazy," said Anderson about his stock rising after this past summer. "I'm not going to say I don't look at it at all because that would be a lie. I'm really just trying not to focus on the articles and the talk around town because you never know. I'm just trying to play to the best of my ability. It's been working out pretty well so far."
Originally committed to Alabama, Anderson reopened the recruiting process at the end of June, after the Tide's head coach resigned.
Anderson considered Kentucky, Auburn, Alabama, Mississippi State and FIU the second time around. But after evaluating the schools and visiting all of them besides FIU, Anderson committed to Mississippi State on Aug. 28.
"I felt at home when I went on my visit there and toured the campus," said Anderson of MSU. "I've also been there plenty of times because that's where my dad went to school. Besides baseball, with Mississippi State having what I wanted to study in kinesiology, I knew it was a fit for me."
A senior at James Clemens High School in Madison, Ala., Anderson hopes to lead his team to a state championship and show an improved approach at the plate this spring, he said.
While he knows he'll have to decide between attending Mississippi State next fall or turning pro straight out of high school in June, Anderson is only focused on what he can control.
"I'm not going to say I don't think about the draft because it's always in the back of my mind," Anderson said. "It's a dream, but when I'm on the field I really try to focus just on the game. Just play the best I can and see where it takes me.
"If it takes me to the draft, and I go straight into the pros, that's great. If not, Mississippi State is a great school and a great baseball program."
Find more MLB Draft coverage here.