Jacob Heatherly set to make professional debut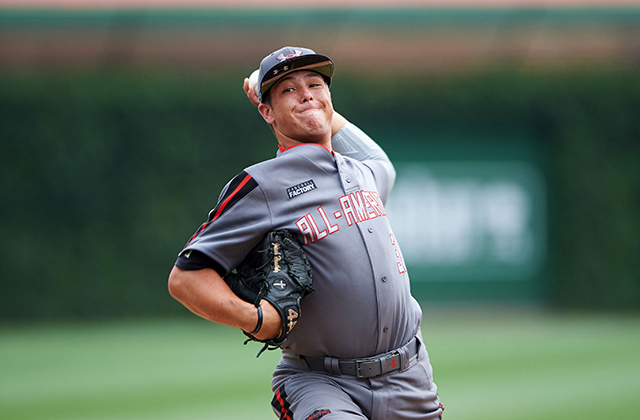 Sitting at home, eagerly watching the 2017 MLB First-Year Player Draft online, as family also waited in anticipation, prep left-handed pitcher Jacob Heatherly didn't have to wait long to hear his name called.
Just two picks into Day 2 of the draft, the Cincinnati Reds selected the lefty from Cullman, Ala. with the 77th overall pick.
"I was shocked and blessed with the opportunity," said Heatherly, who had no previous contact with the Reds before they drafted him. "God put me in a good spot. I'm going to work my tail off and hopefully I will get to the big leagues.
"I was expecting to go higher, but that's the way the draft is. I took the opportunity and ran with it."
Ranked by MLB.com as the 45th-best draft prospect, Heatherly quickly signed with the Reds, agreeing to a signing bonus worth $1,047,500 on June 20. The suggested pick value was $743,900.
"I just knew my heart was in pro ball," said Heatherly, who was committed to the University of Alabama. "I always dreamed of being a professional baseball player. I knew if I got the opportunity, I was going to take it."
The 6-foot-2, 208-pound hurler possesses a four-pitch mix, featuring a fastball, curveball, slider and changeup. His fastball sits in the low-90s and touches 95 mph. He locates his pitches well and isn't afraid to attack hitters inside.
As a senior at Cullman High School in 2017, Heatherly went 10-1 with a 1.11 ERA and 116 strikeouts in 69 2/3 innings.
Assigned to the Arizona League Reds – the Rookie affiliate of the Reds, Heatherly will make his professional debut on July 2.
"It is really surreal," Heatherly said. "I'm just blessed and going to work as hard as I can."
Read my previous feature articles on Jacob Heatherly here:
—An advanced prep pitcher: Jacob Heatherly
—Jacob Heatherly continues to impress this spring
Find more MLB Draft coverage here.
READ: 2017 MLB Draft: Profiles on top prospects
READ: The3rdManIn.com's MLB Draft prospect history