Fraley determined to lead LSU to championship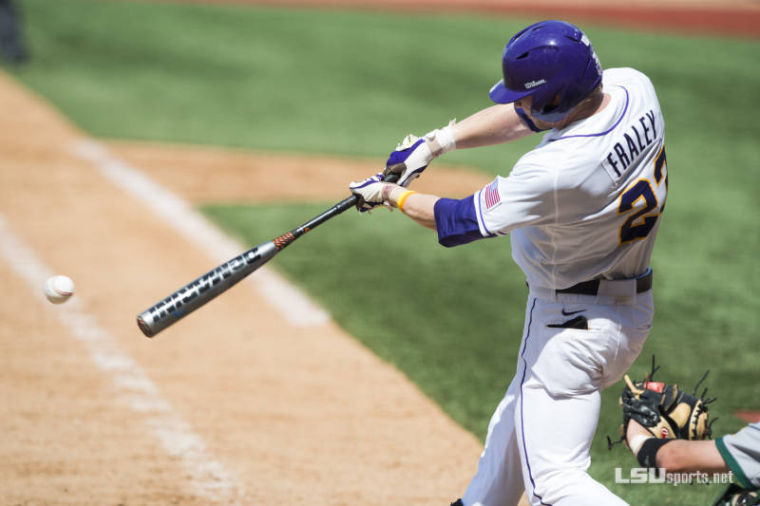 Winning national championships is the expectation at Louisiana State University. Last season, the baseball program finished with an overall record of 54-12, but it wasn't good enough.
LSU made it to the College World Series, but they dropped two of their first three games and were sent home empty handed.
Now with the 2016 season almost here, LSU is focused on returning to Omaha, Neb. and winning their first national title since 2009.
However, it won't be easy with the departure of eight players from the everyday lineup, including three All-Americans.
The only everyday player returning to the Tigers this season is junior outfielder Jake Fraley.
Even with the lack of experience, Fraley is determined to bring another championship back to LSU, in what could be his final season playing with the Tigers, he said.
In Fraley's first two years at LSU, he primarily played left field, while hitting over .300 in both seasons. But, this season, he will be making the transition to centerfield.
"I played centerfield my entire life until college," Fraley said. "It's actually been kind of cool because when I played summer ball I was able to get out there for the first time in centerfield.
"It was a cool feeling because it brought me back to all the years I had played it up until the last two years. It felt really good to get out there and have all that room to run and have fun."
After playing for a second consecutive summer in the prestigious Cape Cod League, Fraley spent the offseason working on being more consistent and preparing himself mentally, he said.
"It's an unbelievable blessing," Fraley said of the opportunity to play in the Cape. "To be able to go out there and play against the best players in the country and learn and adjust my game from watching other great players was a blessing. It's helped me a lot with making steps forward in my career."
Fraley, a preseason All-American, is expected to be the offensive catalyst on this year's squad. Although, he isn't known as a power hitter, the left-handed swinging Fraley is a solid bat atop the lineup with his patient, contact-oriented approach and ability to steal bases.
If Fraley can duplicate his sophomore season, in which he hit .307 with two home runs, 35 RBIs, 11 doubles, five triples and 23 stolen bases in 29 attempts, he will be an early round selection in June's MLB First-Year Player Draft.
Fraley would have likely been selected in the MLB Draft coming out of high school, but he decided to attend LSU instead, after talking to his family and former LSU and current Baltimore Orioles pitcher Kevin Gausman.
"They were the school that had the coaches that were going to get me to the next level," Fraley said about LSU. "The Lord put it in my heart that that was the place to go, and I decided to take my name out of the draft and go to LSU. It ended up being the best decision I made."
Now it appears Fraley's commitment to LSU, along with his hard work and dedication, will pay off in June. MLB.com ranks Fraley as the 32nd prospect on their preseason top 50-draft prospects list.
Despite his name being tossed around in early draft discussions, Fraley doesn't worry about it. Instead, he is solely focused on helping LSU win ball games.
"I know how my mind works," Fraley said. "I spend a lot of time learning from a lot of people and reading. My biggest person to lean on is the Lord. I have the greatest thing to lean on for the comfort to know that that's out of my control.
"I use Twitter for spiritual stuff. I don't read any articles since I've gotten to LSU and that has helped me out tremendously. It has allowed me to block out all those things that I don't have control over and allows me to have my focus completely on the Lord. While also going out there and playing the game that he's blessed me with playing."
You can find more MLB Draft coverage here.