Drew Waters hopes to be a first-round pick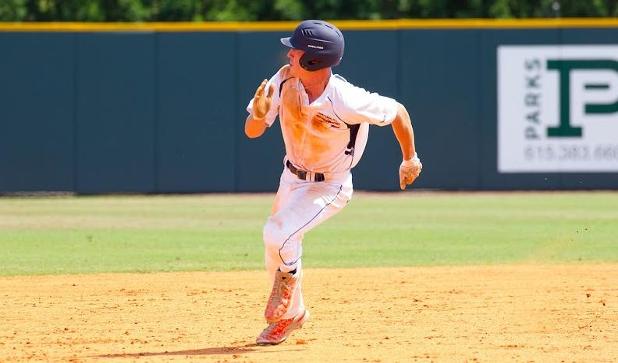 Many youngsters aspire to one-day play baseball professionally, but for most it's just a fantasy. However, for Drew Waters, his dream could soon become a reality.
A senior switch-hitting outfielder from Etowah High School in Woodstock, Ga., Baseball America ranks Waters as the 28th-best available prep prospect in the 2017 MLB First-Year Player Draft. While the draft isn't until early June, Waters made it clear that his goal is to get selected high in the draft.
"The biggest goal is when it comes time for June, I want to be a first-rounder," Waters said.
While his No. 1 priority for his future is professional baseball, Waters is also committed to continuing his education and baseball career at the University of Georgia next fall.
Waters' sister and brother were student-athletes at Georgia. His sister played soccer and his brother was a member of the baseball team in 2013 and 2015.
A lifelong fan of the Bulldogs, the University of Georgia felt like home for Waters, he said.
"My brother really got to know the coaches when he was playing for them," Waters said. "I felt comfortable with the coaches and that's why I decided to commit to Georgia."
A 6-foot-1, 166-pound switch-hitting outfielder, Waters is known for his speed and ability to swing the bat with authority from both sides of the plate. He projects as a top-of-the-order bat that can steal bases and play an above-average centerfield at the next level.
Waters knows he'll have to decide between attending Georgia or turning pro next summer after the draft. But he's prepared for that life-changing decision.
"College baseball is definitely a stepping stone," Waters said. "We all agree the overall goal of a baseball player is to play in the major leagues. So if I get the opportunity and it's the right opportunity, then I will sign and go play professional baseball.
"Whether I sign or not, Georgia is a great place to be. But, I'd love to go out of high school and play professional baseball. That's a dream I've had since I was little."
Waters has dedicated his life to baseball from an early age. He said he didn't play with toys or video games when he was young, he just played baseball. He understands he has to put in the work and is willing to do what he needs to improve his craft.
"A lot of people just consider it a sport, but I consider it a hobby," Waters said. "It is something I like to do, and I just happen to be good at it. I spend the majority of my days after school doing something to get better at baseball, whether that's working out, hitting, throwing or doing it all. Baseball is my hobby and I enjoy doing it because it's fun."
With his senior season inching closer, Waters is hoping to have an impressive final prep season after spending the off-season working on his speed and strength, while also toning everything down in his swing to make it a bit more consistent and repeatable.
However, he's prepared to get pitched around this season. While some hitters would get frustrated and lose plate discipline, especially with the pressure of professional scouts in attendance, Waters wants to make sure he remains positive and is doing whatever he can to help his team win a state championship, he said.
"The chances of me getting pitched to is not very high," Waters said. "A lot of teams and people know who I am, so they are obviously going to pitch around me. Just never get down on myself. At the end of the day, baseball isn't a one-person sport, it's a team sport. Just being a leader on the team and encouraging players is my goal."
Find more MLB Draft coverage here.