Bruce Pearl is back in coaching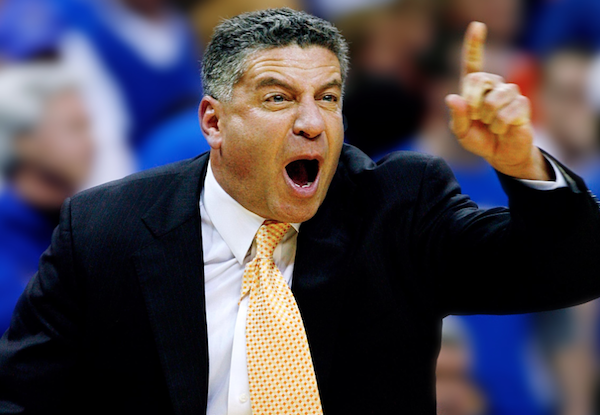 Could Bruce Pearl have asked for a better birthday gift? Today the stellar head basketball coach and current ESPN analyst has been named the new head coach at Auburn.
Pearl, 54, has been out of coaching since 2011 after lying to the NCAA in regards to the recruitment of now Ohio State guard Aaron Craft, and was handed a three-year show-cause by the NCAA. The show-cause expires in August, and will not allow him to have contact with any recruits until that time.
While at Tennessee he led the Vols to the NCAA Tournament in each of his six seasons as the head coach, while recording an impressive 145-61 record.
Prior to landing the job in Tennessee he spent four seasons at Milwaukee and took the program to two NCAA Tournament appearances, including a Sweet 16 appearance in 2005.
In 10 seasons at the Division I level he has compiled a 231-99 record with Milwaukee and Tennessee.
Auburn has landed one of the top basketball coaches in the country, and he will do marvelous things for their program. The Tigers finished this season 14-16 and 6-12 in the SEC, and before you know it Pearl will not only have the Tigers competing for a SEC Championship but a National Championship.
Pearl is an excellent recruiter and coach, and anywhere he has gone he has shown that he can win. He took the basketball programs at Milwaukee and Tennessee to the next level, and I doubt anyone is questioning that he can do the same for Auburn.
This hiring by Auburn does bring some disappointment to the fans in Milwaukee, who were hoping the legendary coach would be returning to where his Division I head-coaching career began.
He is the greatest coach in Panther history, and did amazing things for the athletic program. When he was the Panthers coach, he is the one who took the Panthers to the next level, while bringing excitement and energy to the program.
Bruce Pearl is a great coach, and an even better person. He always has made it a priority to interact with fans, while putting a winning product on the court. I wish Pearl all the best of luck in the next step of his coaching career, and can insure fans at Auburn that they will fall in love with him just like fans at Milwaukee and Tennessee did.