Brewers position battle predictions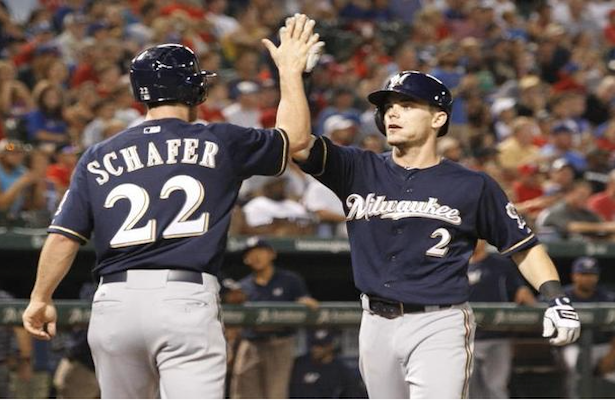 Spring Training begins this Saturday for the Milwaukee Brewers as pitchers and catchers report to camp, but it will not be until February 22nd that the Brewers hold their first full team workout. Once practice begins here are some position battles to watch:
Second Base: Rickie Weeks vs. Scooter Gennett
This season will mark Rickie Weeks' 11th year in the majors, after breaking in as a highly touted prospect in 2003. A former second overall pick, Weeks has never been able to live up to that status due to numerous injuries that have derailed his career.
His latest injury a year ago allowed the Brewers to promote Scooter Gennett, who is now looking to take over second base permanently.
Gennett was originally called up on June 3rd last season, but after hitting .250 in the month of June, the young second basemen was sent back to Nashville. It was not until the end of July that he received a second opportunity in the big leagues, and he made the most of it.
Gennett has hit at every one of his stops in the minors, but the real question was could he do that against big league pitching. When he had to fill in for the injured Weeks, he showed that he could handle MLB pitching, finishing the season hitting .324 with six homeruns and 21 runs batted in.
Even though Weeks is set to make $11 million this season, Gennett showed he can play in the majors and should be starting at second base come Opening Day.
First Base: Lyle Overbay vs. Juan Francisco
Mark Reynolds signed a minor-league deal with the Milwaukee Brewers this offseason, and although it is not a major league contract, he has been almost guaranteed a spot on the active roster.
The Brewers will most likely be using a platoon at first base to begin the season, so that will guarantee either Lyle Overbay or Juan Francisco a roster spot.
Francisco played in 89 games with the Brewers a year ago almost exclusively as a first basemen hitting just .221 with 13 homeruns, 32 runs batted in, and 95 strikeouts in 270 plate appearances.
Overbay will be making his return to Milwaukee after spending his best years in a Brewer uniform. It will not be easy for the veteran to make the club, after having mixed results in the Bronx a year ago.
With the Yankees he received 486 plate appearances, while hitting .240 with 14 homeruns, 59 RBI's, and 111 strikeouts.
Overbay was much better though against right-handed pitchers batting .258 with a .748 OPS compared to only a .190 average and .519 OPS against lefties.
If the Brewers were confident that Francisco could get the job done at first, they would not have put first base at the top of their shopping list this offseason. Overbay is the only natural first basemen out of Reynolds, Francisco and himself, plus he has solid defensive skills at the position unlike the other two.
Overbay would be a could platoon partner with Reynolds at first, and if the Brewers are serious about winning this year they need to keep Overbay over Francisco coming out of Spring Training.
Left field: Khris Davis vs. Logan Schafer
This is the one position battle that has not received much attention over the offseason. While many think it is obvious that Khris Davis will get the nod on Opening Day in left field, it is not that simple – Davis will have to go to Spring Training and earn the position.
Davis was impressive when he was called up last season hitting .279 with 11 homeruns and 27 runs batted in, but he is known for being a high strikeout guy. While he only strikeout 34 times in 136 plate appearances last season, in the minors he strikeout a ton.
On two separate occasions in the minors he received over 500 at-bats, and he strikeout 120 and 93 times. Now just imagine when he receives that many at-bats in the majors against top level pitchers who have at least two effective out pitches – he would easily strikeout over 100 times.
That is why Schafer could be an option for the Brewers if they are looking for a guy who can get on base at a respectable clip, while keeping his strikeout numbers down.
Last season Schafer struggled in his role as a pinch hitter and spot starter. This was not a surprise as he is use to being an everyday player, and everyone who has been in that situation knows that it is not an easy thing to do.
In the minors he was a solid hitter never hitting below .272 when receiving a substantial amount of at-bats. He also never had a season that his strikeout numbers were ridiculously high.
Schafer has said that he plans on coming to Spring Training to compete for the starting spot, and while both players are capable of starting, it will all depend on what manager Ron Roenicke is looking for in his lineup.
Schafer would be the better fit in the lineup since the Brewers already have multiple players who tend to strikeout a lot, but expect Roenicke to go with Davis due to his power threat.