Brewers add veteran reliever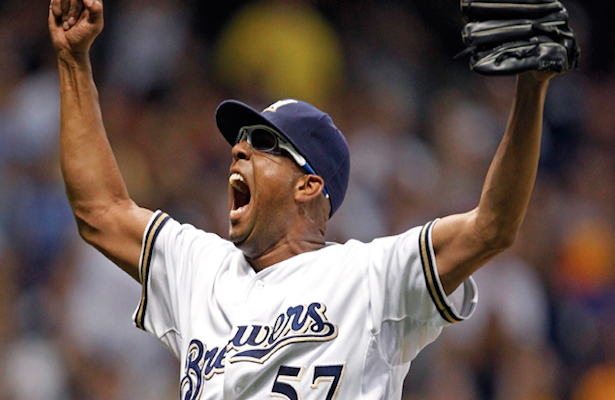 Francisco Rodriguez will be wearing a Milwaukee Brewers uniform for a third time in his career this upcoming season. According to MLB.com's Adam McCalvy, the Brewers and Rodriguez have agreed to a one-year, $3.25 million deal with $550,000 available in incentives.
In order to make room for Rodriguez on the 40-man roster, the Brewers designated reliever Donovan Hand for assignment.
Rodriguez, 32, will bring an impressive resume to the backend of the bullpen as he has 304 saves in his 12-year career with the Los Angles Angeles, New York Mets, Milwaukee Brewers and Baltimore Orioles. In 2008, he set the major-league record with 62 saves with the Angeles.
The Brewers signed Rodriguez in April last season to a cheap, team friendly deal before dealing him at the trade deadline to the Orioles for third base prospect Nick Delmonico.
He pitched extremely well for the Brewers a year ago going 1-1 with an incredible 1.09 ERA and a perfect 10 for 10 in save situations, but he did struggle after he was traded posting a 4.50 ERA in 23 appearances with the O's.
The Brewers originally acquired K-Rod in 2011 during the All-Star break. In only a short amount of time, he developed into a major contributor as the Brewers won the National League Central crown, going 4-0 with a 1.86 ERA in 31 appearances as the setup man.
In 2012, he appeared in 78 games for the Brew Crew as both a setup man and closer going 2-7 with a 4.38 ERA and only three saves.
The Brewers needed to add another arm to their bullpen, and he will be a nice fit as Jim Henderson's setup man. This is another one of Doug Melvin's low risk moves, that can pay of big time for the Brewers as they try to make a run for the NL Central title this season.