Baseball needs permanent home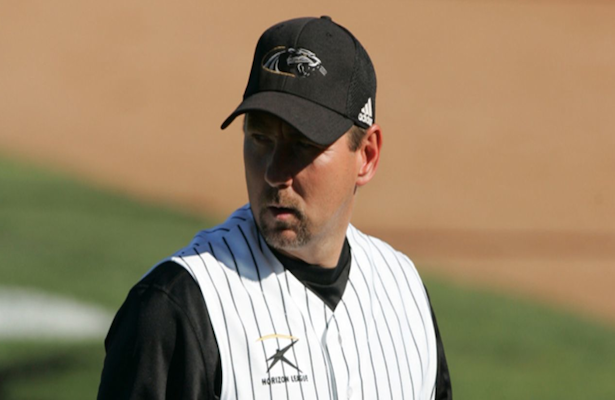 This past College Baseball season was a successful one for the Milwaukee Panthers. While they were unable to secure a NCAA tournament berth, the Panthers won the Horizon League regular season championship, along with four of the five regular season awards, going an impressive 28-19 overall and 14-7 in conference. This was very impressive for the Panthers, who are the only Division I college baseball program in the state of Wisconsin, but if you look at their facilities, you would never realize it.
Henry Aaron Field, home of the Panthers, is a glorified high school baseball diamond that is not suitable for a college baseball program. While it should not matter as long as you have a field to call home, it does make a huge impact on the Panthers' baseball program. Even though the Panthers have been able to be a competitive program throughout the years, "The Hank" makes it even harder to lure some of the top high school players in the state.
As head coach Scott Doffek said, "Athletes, recruits they buy with their eyes."
Facilities are usually high on top high school recruits' priorities, and it is hard to convince players to play for the Panthers when they have a baseball facility that is not typical for a D-I program. This causes the Panthers to lose out on many of the top prospects in the state of Wisconsin, ultimately hurting the overall success of the program. Not only is it hard to sell recruits on playing at Henry Aaron Field, but it also has a poor playing surface.
Wisconsin is not the best place to play baseball in the early spring due to frequent inclement weather, and with Henry Aaron Field being all natural grass and dirt, the Panthers struggle with rainouts. Just this past season good old Mother Nature threw the Panthers a curveball with a whopping 13 games postponed or cancelled due to the weather. Not only do the Panthers play at Henry Aaron Field, but the Milwaukee School of Engineering does as well. Henry Aaron Field also holds numerous tournaments and high school games throughout the summer, causing the field to be overused and in poor condition by the end of the summer. Field turf would be a solution to this problem whether they renovate Henry Aaron Field or build a new baseball facility.
The ability to persuade recruits to play at Henry Aaron Field and the current playing surface are two of the major issues the Panthers face, but another negative is the distance from campus.
"The fact that the field is a 15 minute drive from campus makes it hard for students to come watch games. An on-campus field would be great for building an overall fan bases, especially our student fan base," said Panther sophomore pitcher Jake Tuttle.
While there is no guarantee that the students would support an on-campus stadium, it would create a better atmosphere for the baseball program. The players would also be able to train on it easier without having to leave campus or do drills on the basketball courts. Although Henry Aaron Field is not that far away, an on-campus stadium would be easily accessible to the players and hopefully allow more students to come and support the team.
Though there are numerous negatives about playing home games at Henry Aaron Field, there is one positive about it – home field advantage.
"There's a reason we went undefeated at The Hank last year. Teams hate playing here because they know we're always going to bring our A-game to The Hank and I love that about our field," said Tuttle.
Even though the Panthers still have to execute the game in order to win, they are use to training on it on a regular basis, helping them to be comfortable with the poor playing conditions. Henry Aaron Field is not "jaw dropping" like many other baseball facilities, causing the other teams to possibly loose a little focus.
As Tuttle said, "You can tell when we play an opposing team at The Hank, they just don't want to be there. Its hard to put aside everything going on around The Hank and focus solely on the game if you don't play here regularly and that's why we are able to play so well here."
Whether it is the other team losing focus or them just not able to adjust to the poor playing surface, there is one thing no one can deny and that is the Panthers great success at home.
The Panthers have had great success at Henry Aaron Field, but it needs many changes and upgrades done to it to make it a quality D-I baseball facility. While this could still be possible, building a new facility would be a more likely and a better option for the program.
As Coach Doffek said, "We've got to be creative on what we do, and it needs to happen really quickly."
According to Doffek, the Panthers have been looking for years at many different sites and options, and came really close to pulling the trigger, and one of the options that was being discussed was Miller Park.
Even though playing at Miller Park would improve recruiting and instantly give Milwaukee an elite baseball complex, it will never happen. Scheduling around the Brewers schedule would be a major difficulty along with the Brewers wanting to preserve their field for their own use. Playing at Miller Park would be an amazing opportunity for the Panthers, but it is not the best option. The Panthers could not use Miller Park as they please, and it would be a major cost for a facility that they cannot call their own.
Building a state-of-the-art baseball complex relatively close to campus is the ideal solution. If and when the Panthers take the route of building a new baseball facility, they should develop a first rate facility that meets their needs and enhances the Milwaukee Baseball program.
Kapco Park is a beautiful field with a great baseball atmosphere. It has FieldTurf, creating a great surface to play on, with a minor league baseball look to it. Kapco Park has a large seating capacity, approximately 1,500 seats, with various seating areas throughout the facility including reserved seats, fan decks, and general admission seating. It also is a fan friendly stadium with concession stands and permanent restrooms.
Second basemen Michael Porcaro said, "If we're going to get a new field we need turf. Our weather is terrible up here obviously, so turf would be the smart route."
Porcaro is exactly right. The Panthers will always have a problem with the weather, but one way to get around it, would be FieldTurf. This would allow the Panthers to play and train on it anytime throughout the year, when snow is not present. Besides the weather, the field turf would create a better overall playing surface with a smooth infield and outfield, no matter how much the field is used. Playing baseball in a northern climate, the Panthers need to play at a facility that has field turf, which would allow the Panthers to play on it 24/7 with the surface remaining the same no matter how much use the field receives.
Along with field turf, the Panthers would need exceptional dugouts, a functional scoreboard, a concession stand, permanent restrooms, a press box, and plenty of room for fans. This would instantly make it one of the top baseball facilities in the Horizon League.
Having a state-of-the-art facility would instantly make a tremendous difference on recruiting. The coaches have been able to recruit quality student athletes with the current lack of facilities, just imagine if they could finally sell recruits on their facilities.
"I think you would see less guys leaving the state of Wisconsin to go D-I. And who knows? Maybe you would start seeing kids from other states besides Illinois come to Milwaukee. But without a doubt it would have a positive impact," said Porcaro.
Currently you see some top tier recruits go out of state because other big D-I schools have better facilities. With a new facility the Panthers could have a better chance at landing more top players locally and nationally, because they already have been successful, they just need the facilities to take the program to the next level.
Not only would a new facility improve recruiting, but the university could also profit off of the field. A new stadium could provide additional revenues by renting out the field, concession stands during games, along with youth and coaching camps.
The only downside of constructing a new facility is that with little land available near campus, the Panthers would most likely have to build away from campus. The goal is always to get a big student fan base at each game, but it will be difficult if the field is off campus to entice students to come to games. While in a perfect world the Panthers would love to build a facility on-campus, realistically they will have to play away from home.
The Milwaukee Panthers need to get the ball rolling on a new baseball facility. New Director of Athletics, Amanda Braun, is committed to improving the athletic facilities, and she has acknowledged that the baseball program's facilities need to be improved. While no timetable has been set on when a new facility will be built, it needs to be a priority.
The Milwaukee Panthers have looked at different options in the past and have been close to deciding on one, but the constant change of Director of Athletics over the last five years has hurt the progress of a new baseball facility. With Amanda Braun now in charge, we can be confident that she will be working on improving and building a new facility for the baseball program.
Success has not been the problem for the Panthers baseball team, but the lack of facilities. Being the only Division I baseball program in the state of Wisconsin, the Panthers deserve better facilities than Henry Aaron Field. Once this happens, it will make a tremendous impact on recruiting, along with bringing in additional revenue for the university, and changing the overall image of the Milwaukee Panthers baseball program.