Angels need to trade Mike Trout this offseason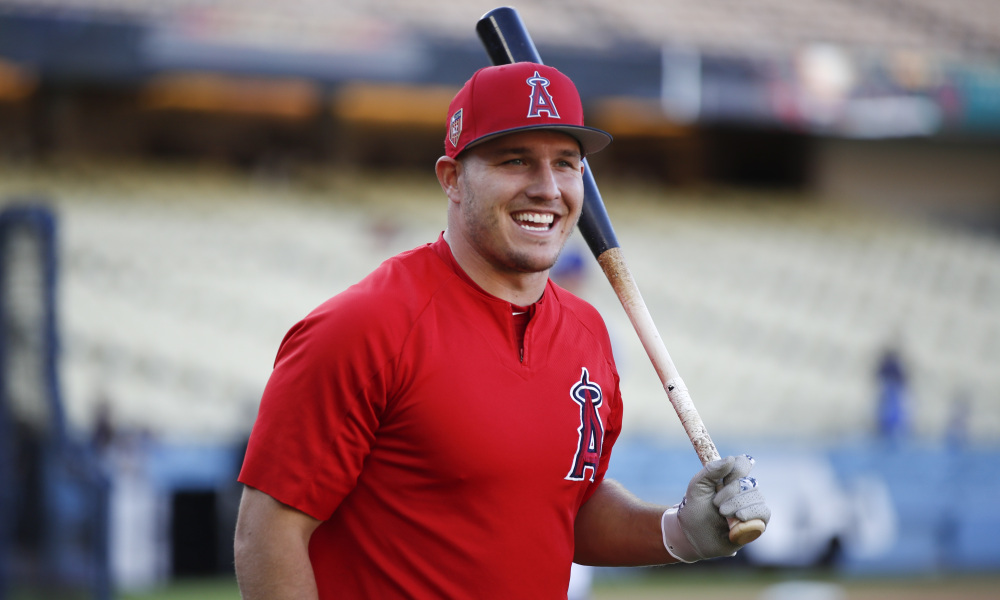 Los Angeles Angels center fielder Mike Trout has made one postseason appearance since his major-league debut in 2011. The Angels have unsuccessfully tried to build a winning club around him through trades and free agency year after year.
They're stuck in purgatory with a roster filled with expensive and aging veterans. They also have a mediocre farm system with few impact players.
Mediocrity defines the Angels. It is time for them to follow the paths of other teams, who were in similar situations over the last handful of seasons, and rebuild from the ground up. To begin a complete overhaul, the Angels need to trade two-time MVP Mike Trout.
Nearly two years ago, I called for the Angels to deal their star player. Since then, the Angels have held onto Trout and missed the playoffs each season.
The Angels aren't winning with Trout, so it's time to trade him and try to win without him.
Trout, 27, has two years, $68.168 million remaining on his contract before he's eligible for free agency after the 2020 season.
Although the Angels won't receive a collection of prospects they could have received two years ago, Trout has enormous value as a five-tool player and would command enough talent that could reshape their farm system and future.
The ideal trade partner for the Angels is the Philadelphia Phillies. They have assets in terms of major-league ready talent and prospects to make a lucrative offer. Trout also grew up in New Jersey and is a Philadelphia sports fan, which could ease the Phillies' worries about having to try to resign him in two years.
Here is a package the Phillies should consider giving up to acquire Trout:
Sixto Sanchez, RHP: Sanchez is the Phillies top prospect, and MLB.com ranks him as the 21st prospect in the game. He spent this season at Class A Advanced where he compiled a 4-3 record with a 2.51 ERA, 45 strikeouts and 11 walks in eight starts (46 2/3 innings). Elbow inflammation slowed his development this season.
A 6-foot, 185-pound righty, Sanchez has top-of-the-rotation potential. His four-seam fastball consistently hits triple digits, while his two-seamer has sink and late life. His curveball is an above-average offering, while his changeup continues to progress.
Adam Haseley, OF: Haseley was the Phillies first-round pick in 2017 out of Virginia. After being the No. 8 overall selection, Haseley has cruised through the minor leagues. He started the season at Class A Advanced before earning a promotion to Double-A. He hit .305 with 17 doubles, five triples, 11 home runs and 55 RBIs in 118 games between the two levels.
Haseley is gap-to-gap hitter and has the speed and arm strength to play all three outfield positions.
Mickey Moniak, OF: Moniak was the No. 1 overall pick out of the California high school baseball ranks in 2016. After struggling in his first full season in 2017, Moniak showed improvement in Class A Advanced this season. He hit .270 average with 28 doubles, five home runs and 55 RBIs in 114 games.
Moniak, 20, is a potential top-of-the-order batter but has struggled with plate disciple in his brief professional career. He isn't a power threat but has the speed to impact the game on the bases and in the field. Moniak doesn't have a strong arm but his speed makes up for it. He figures to play center field in the pro ranks.
Read a draft profile on Moniak from 2016 here.
Dominic Pipkin, RHP: Pipkin had the potential to go in the early rounds of the 2018 MLB draft. But after he slid past that point, he didn't hear his name called until the ninth round. The Phillies paid him an above-pick-value bonus of $800,000.
Pipkin pitched in 10 games (eight starts) after the draft and recorded a 3.64 ERA with 18 strikeouts and eight walks in 29 2/3 innings. Read multiple MLB draft stories on Pipkin here.
J.P. Crawford, SS: Crawford was once one of the top prospects in baseball and figured to play apart in the Phillies' future. But he missed 101 games this season, and in the meantime, Scott Kingery took over the starting shortstop duties. The expectation is that Kingery will hold that role if the Phillies don't sign free-agent shortstop Manny Machado.
Crawford is still young at 23 years old, but his career is in a crossroads. He hasn't lived up to expectations in his brief stints with the Phillies the last two years. He's hit .214 with three home runs, 18 RBIs, 59 strikeouts and 29 walks in 187 at-bats (72 games) in two years.
Trout is a future Hall of Famer and is in the prime of his career. Although it's difficult to trade a player of his caliber, the Angels need to start the rebuilding process in hopes of bringing a World Series to Anaheim in the next 10 years. It's a risk acquiring five young and unproven players, but it's a move that could set them up for a competitive future.
(Photo of Mike Trout: USA Today)