2018 MLB Draft: Mock Draft Top 10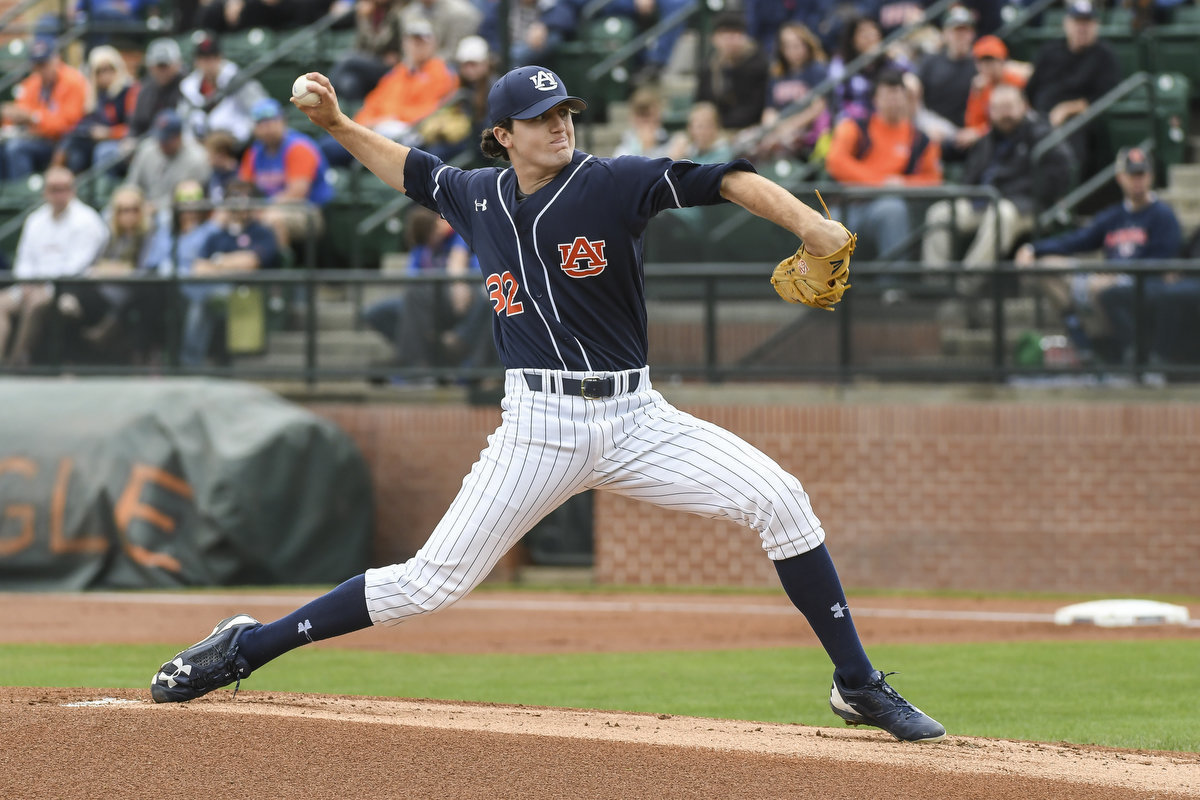 In less than two months, the 2018 MLB Draft will kick off on June 4. Although the MLB Draft doesn't receive the attention it deserves, it is a critical part for sustained success for major league teams.
The teams in baseball who consistently compete and make the playoffs are the ones who draft well and develop talent from within. Here's how I see the first 10 picks playing out in the 2018 MLB Draft, as of April 6:
1. Detroit Tigers: Casey Mize, RHP, Auburn
Casey Mize has been the top and most consistent college arm in this year's draft class throughout the spring. Read a feature story on the Auburn right-hander here.
2. San Francisco Giants: Matthew Liberatore, LHP, Mountain Ridge (Ariz.) HS
At 6-foot-5, 200 pounds, Matthew Liberatore is the top prep left-handed pitcher in the 2018 MLB Draft class. He has the potential to have three above-average offerings, as he throws a low-90s fastball, curveball and changeup, which is his best pitch.
3. Philadelphia Phillies: Shane McClanahan, LHP, South Florida
A knock on Shane McClanahan in the past has been his poor mechanics and a lack of command. But this season he's dominated opposing hitters, tallying 73 strikeouts and just 19 walks in 40.2 innings. If he can continue this success, McClanahan has a chance to go No. 1 overall do to his mid-90s fastball, above-average changeup and developing slider.
4. Chicago White Sox: Nick Madrigal, SS/2B, Oregon State
Nick Madrigal is only 5-foot-8 and 165 pounds, which could hamper his draft stock. He's also missed all but six games with a fractured hand this spring. However, since returning from injury, Madrigal is hitting .560 with two doubles, two home runs and eight RBIs. He's also 3-for-3 on stolen base attempts and hasn't committed an error at shortstop.
5. Cincinnati Reds: Brady Singer, RHP, Florida
Right-hander Brady Singer possesses a three-pitch mix, featuring two above-average offerings in his mid-90s fastball and devastating slider. A 6-foot-5, 180-pound hurler, Singer has had mixed results this spring, after being considered the top player in the draft class at the beginning of the college season.
Singer will have to show improvement in his changeup and control to go No. 1 overall in 2018.
6. New York Mets: Ryan Rolison, LHP, Mississippi
Ryan Rolison is a draft-eligible sophomore and has an improving three-pitch mix. He was the top pitcher in the Cape Cod League last summer. Read a feature story on the Mississippi left-hander here.
7. San Diego Padres: Jarred Kelenic, OF, Waukesha West (Wis.) HS
A 6-foot-1, 190-pound outfielder, Jarred Kelenic has room to improve but is already an advanced player with five-tool potential.
Defensively, his speed allows him to cover a lot of ground, and he has an accurate and strong arm the profiles well in right field. His best trait is his advance hitting ability. He's more of a gap-to-gap hitter right now but has the potential to become a consistent home run threat.
8. Atlanta Braves: Ethan Hankins, RHP, Forsyth Central (Ga.) HS
Ethan Hankins has the talent to go No. 1 overall, but he's had a shoulder issue and mixed results this spring.
Hankins has the potential to become an ace caliber pitcher in professional baseball. He possesses the best fastball in the draft class, which sits in the mid-to-upper-90s, and also throws a curveball, slider and changeup.
9. Oakland Athletics: Travis Swaggerty, OF, South Alabama
Despite playing at a mid-major school, Travis Swaggerty is one of the top college outfielders in the 2018 MLB Draft, after strong collegiate seasons and summer performances. Read a feature story on the South Alabama outfielder here.
10. Pittsburgh Pirates: Alec Bohm, 3B, Wichita State
Alec Bohm is one of the best power hitters in this year's MLB Draft class and is having a lot of success at the plate this spring. Read a feature on the Wichita State third baseman here.
READ: 2018 MLB Draft: Profiles on top prospects
READ: The3rdManIn.com's MLB Draft prospect history