Will Rigney develops into MLB draft prospect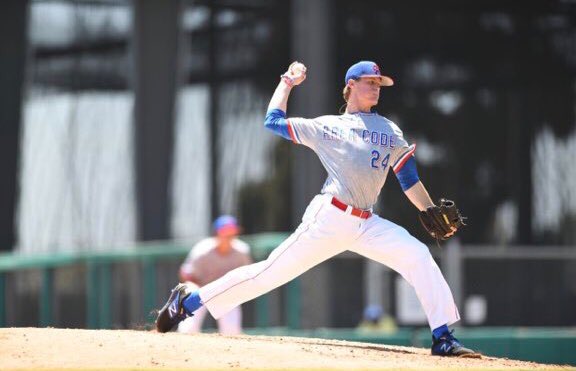 Will Rigney, a right-handed pitcher from Waco, Texas, was about 5-foot-10, 140 pounds as a high school freshman in 2016. He said he "wasn't much of a pitcher," as his fastball registered around 80 mph.
He started to work with Chris Berry, who at the time was the pitching coach at McLennan Community College in Waco. Berry helped Rigney in "all aspects of pitching," including his mechanics and delivery, Rigney recalls.
Rigney's dedication to improving his craft has paid off. He's 6-5, 205 pounds and throws his fastball in the mid-90s as he enters his senior season this spring. Baseball America ranks the prep hurler as the 24th-best prep prospect in the 2019 MLB draft class.
"It's something I've been working towards since I've been young," he said. "I haven't accomplished anything yet, and I still have a lot of stuff to do though."
Rigney throws a four-seam fastball, two-seam fastball, slider and circle changeup from a low-effort overhead windup with a three-quarter arm slot.
His slider displays sharp, late break and is his outpitch. He's working on a consistent feel for the pitch as "sometimes it can get a little flat," he said.
Rigney also shows potential with his low-80s circle changeup, despite rarely throwing it against high school competition.
Besides refining his pitches, Rigney also expressed a desire to improve his command.
One trait Rigney receives raving reviews on is his pickoff move. Over the summer, Rigney estimates he picked off "around 15 people." Scouts witnessed his ability to catch runners drifting too far off first base when he picked off a runner in the Perfect All-American Classic and Under Armor All-American Game.
"I have a little bit of a balk move that umpires don't see, but I have quick feet that help a lot," he said. "That's something not a lot of people have."
Rigney will likely have a difficult decision to make in June, as he's committed to Baylor and has the potential to go early in the MLB draft. Rigney's father was a catcher at Baylor for four years, which factored into his decision to commit to the university.
"I like that he played there, and I am going to do the same thing," Rigney said. "I love the school in general too. I grew up watching all the Baylor events. I just thought it was a good fit."
(Photo courtesy of Will Rigney)
Video of Will Rigney