Top 4 prospects for the Bucks in 2014 NBA Draft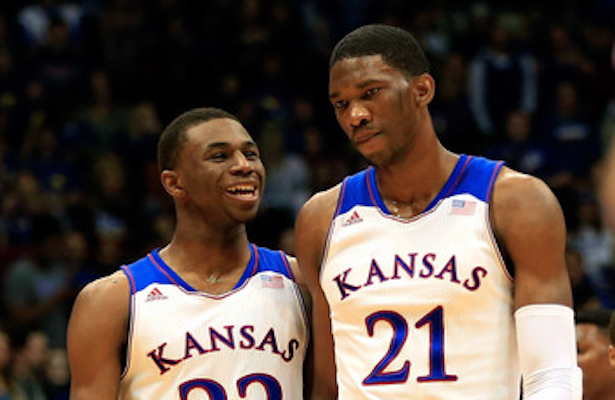 It has been nearly three weeks since I last ranked the top draft prospects for the Milwaukee Bucks, but due to the Holidays, not many games where taking place over that time.
Even with the Holidays, the Bucks continued to play games, and they continued to struggle, as they sit in the basement of the NBA with a 7-31 record. The last time the prospects where ranked Jabari Parker came in at number one, but a new player has taken over at the top spot:
1. Andrew Wiggins – SG – Kansas: In Kansas' four conference games so far this season, Andrew Wiggins has had a decent showing. He has averaged 15.5 points on 38 percent shooting from the field, while grabbing nearly nine boards per game.
Wiggins has not put together the dominating season many thought he would so far, but with the struggles of Jabari Parker and the Bucks need for a score, by default he comes in as the number one prospect this week.
2. Joel Embiid – C – Kansas: Joel Embiid has moved up a spot each week in my rankings, and that is because he has been one of the best players in college basketball this season.
In the first four conference games Kansas has played this season, Embiid has dominated, while only averaging 23 minutes per contest. He has averaged per game 11.25 points on 70.8 percent shooting, while recording nine rebounds and over three blocks in the conference season so far.
While the Bucks need a scorer, and do not have a need at the moment at the center position, the Bucks may have no choice on passing on Embiid. He has all the potential in the world to develop into one of the NBA's top centers on both sides of the ball, and could be a game changer for the Bucks if they chose to draft him.
3. Jabari Parker – SF – Duke: Jabari Parker has been the top college basketball player this season, but in Duke's first four ACC matchups he has been a nonfactor.
In conference play the freshman standout has only averaged 10.5 points while shooting a disappointing 30.4 percent from the floor including 25 percent from behind the arc per game.
There is no doubting that Parker can be very good if not a star in the NBA, but he will need to start playing better quickly in order for the Bucks to consider him over Wiggins. Also the rumors that he could be considering a two-year Mormon mission could be too much of a risk for the Bucks to take, as they try to turn around their struggling franchise.
4. Marcus Smart – PG – Oklahoma State: Marcus Smart has been the top point guard in college basketball this season, but he has also gotten a little lucky that Australian guard Dante Exum has not played basketball since December, as he is deciding between declaring for the Draft or going to play college basketball. If Exum was playing and displaying his skills for NBA scout, you could make an argument that he deserves to be above Smart because of his excellent basketball skills.
That is not to say Smart is only on the list by default because he has had four great conference showings for the Cowboys. In the four-conference games, he has averaged 20.25 points on 45 percent shooting including 41.2 percent from three-point territory. He has also grabbed 9.5 rebounds, while recording nearly five assists and a little over two steals per game.
Smart is a talented point guard, and he could be the leader the Bucks are looking for if they decide to move Brandon Knight to shooting guard.
Final Thoughts: The NBA Draft is still many months away, but with the way the Bucks have been playing it is never too early to look towards the future. Right now it would be a tough decision for the Bucks to make if they landed the number one selection since there are four talented players who are all deserving.
Make sure to check back next week to see if Embiid or Parker can overtake Wiggins for the top spot in the rankings because it will be another entertaining and competitive week of basketball.