Time to make a change to the starting rotation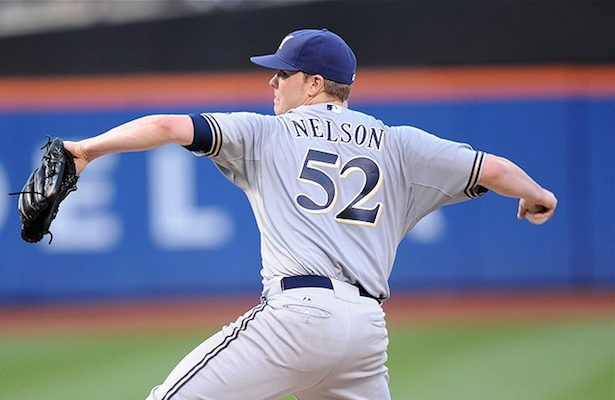 Making significant changes to a playoff caliber team can be risky, but when it works it usually pays off in a significant way. The Milwaukee Brewers have made it known that they are going for it all, and if they are truly serious about this, then they need to make a change to their starting pitching rotation.
The Brewers backend of the starting rotation, featuring veteran righties Matt Garza and Marco Estrada, has gotten off to an extremely slow start this season. Their struggles have caused many to wonder if it is time to replace one of them with young, promising arm Jimmy Nelson.
Nelson has been dominating Triple-A hitters early on this season as he has been impressive on the mound going 7-1 with a 1.51 ERA, and a minuscule 0.88 WHIP in 11 games (10 starts). He has also made one emergency start for the Brewers this year throwing 5.2 shutout innings.
These numbers are deserving of a call-up to the Major League squad, the only problem is whom do the Brewers remove from the starting five.
After agreeing to a four-year, $50 million deal this past offseason, Garza is locked into starting every fifth day, so that means the only option is to remove Estrada from the starting rotation.
Whether the Brewers move him to the bullpen or remove him from the roster, this is a move they need to make. If they want to compete for a playoff spot this season they need to use their five best starting pitchers, and Estrada is not one of them.
In 13 starts this season Estrada is 5-3 with a 4.56 ERA while allowing a league leading 20 home runs to opposing hitters.
Sure Estrada has had some solid outings this season, but overall he has been too inconsistent to be a reliable starter for a playoff contending team.
While Nelson is still an unknown at the Major League level, he is a workhorse who possesses a great mixture of pitches. He generates a lot of ground balls with his heavy fastball that sits in the low to mid-90s. His best secondary pitch is a power slider followed by a solid changeup.
Everyone knows what Estrada offers and if the Brewers are serious about making a run not only into the playoffs but hopefully to the World Series, then they need to take a risk by benching Estrada in favor of Nelson to hopefully add a punch to the backend of their rotation.