Stephenson emerges as top available catcher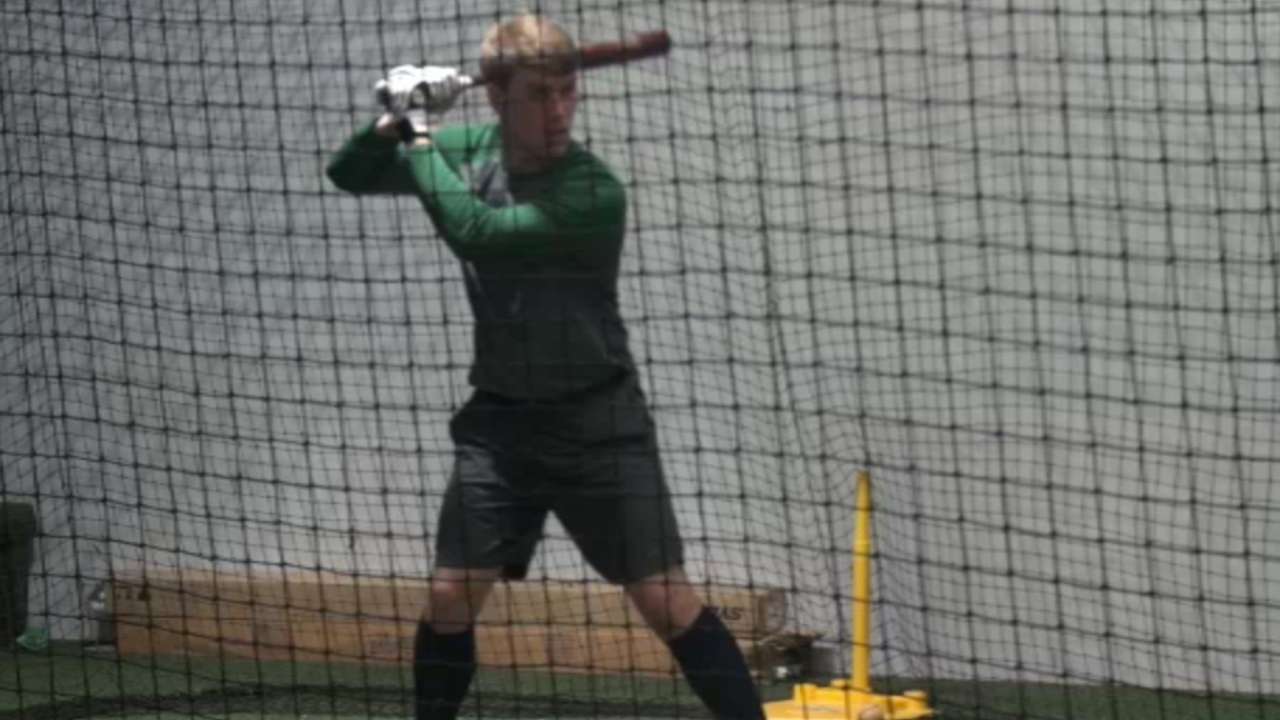 With a thin crop of catchers in this year's Major League Baseball Draft class, one high school backstop has soared up draft boards. Kennesaw Mountain High's (Kennesaw, Ga.) Tyler Stephenson has emerged this spring as the preeminent, all-around catcher available.
Stephenson has spent a lot of time and effort working on his craft, as he has been behind the plate since he was a youngster.
"I have done it [caught] since I believe I was 7 years old," Stephenson said. "The reason I did it was because my coaches asked who wants to catch, and I though the catching gear looked cool."
Despite his initial interest in catching because of the equipment, Stephenson has developed a true passion for the position. He said he enjoys being a part of every play, and the impact the position has on the game.
Now with his high school career complete, Stephenson will continue his education and baseball career at Georgia Tech in the fall.
"First it would be the school, you can't really beat getting a good education," Stephenson said regarding his decision to commit to Georgia Tech. "I loved the coaching staff they have and what they have done with catchers in the past like Matt Wieters and Jason Varitek. They have proved that they can make elite catchers."
Stephenson has an outstanding opportunity in front of him with the chance to stay close to home and play for a well-respected program.
However, there is a possibility Stephenson may never step foot onto campus, as he will be selected highly in June's MLB Draft. Currently ranked 47th on MLB.com's top draft prospects list, Stephenson has more helium than almost any prospect right now.
With the high demand for talented backstops, Stephenson has been rumored to have a chance at going as high as No. 1 to the Arizona Diamondbacks. While that appears to be unlikely, he will not fall past the Atlanta Braves at No. 14, as they are dying to select the talented in-state product.
Despite all the commotion surrounding Stephenson and the draft, he said he has tried to not get entangled in all the hype.
"You just can't listen to it," Stephenson said regarding the buzz surrounding him. "It just changes your expectations and then draft day comes around and it doesn't happen. Come draft day you don't know what will happen until it actually happens.
"That's why I am not getting caught up in it. The worst thing that I'm going to be doing is playing baseball at Georgia Tech, which that is an honor right there."
Whichever route he decides to go, that team will be getting an extremely talented player and solid individual.
A 6-foot-4, 210 pound backstop, Stephenson's defensive skills are advance for a high school catcher. He has a strong and accurate arm and despite his size, is agile behind the plate. He also has experience calling a game, something he has done since his freshman year he said.
His size, strength and bat speed have also translated into an incredible amount of raw power at the plate. He also does a nice job of hitting to all parts of the field.
One thing scouts mention as a downfall however, is that sometimes his swing is long. Teams shouldn't worry, as this is something that can be fixed with additional time and work spent on it.
With so much uncertainty in this year's draft it will be interesting to see where Stephenson is selected. But, one thing is for sure, he will be highly selected and have an opportunity to turn pro.
All this draft chatter surrounding him since the early spring is well deserved, but he said he was somewhat surprised by it.
"I made a big jump in the fall when I played well down in Jupiter, Fla. and that is when I really started to receive more attention," Stephenson said. "Now my family is like, 'Wow we have had every MLB team contacting us, this is getting pretty serious.' It's been a great experience though."