Sam Koenig adjusts to pro ball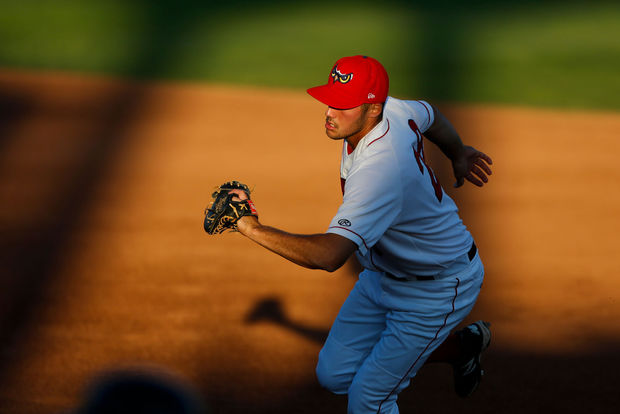 After posting eye-opening numbers in his final college season with Milwaukee, outfielder Sam Koenig was selected in the 27th round of the 2015 MLB Draft by the Los Angeles Angels. Koenig was thrilled for the opportunity, but he knew he still had a lot of work to do before making it up to the major leagues one day.
Once he signed his professional contract, Koenig was assigned to Class A Burlington in the Midwest League. He got off to a shaky start and only lasted nine games with the Bees before being sent down to Rookie ball.
"In A ball it was just the biggest jump with the top level pitching," Koenig said. "It's still the same game, but it's a lot different from college ball especially for having two weeks off from our season.
"It's just getting into the concept of different teammates, a different manager and the different environment was the biggest challenge."
He also mentioned that getting use to the travel and showing up to the ballpark on a daily basis were adjustments he had to get accustomed to.
But, once he joined the Orem Owlz in Orem, Utah, he began to settle in and produce on the field.
"I think I just got more comfortable, more relaxed," Koenig said regarding his success after being sent down to Orem. "I was sent to Arizona for not even a week and then was in Burlington for a couple. But, once I got settled down and comfortable I started doing better."
With the Owlz's season close to wrapping up, Koenig has been a solid contributor. In 28 games, the right-hander is hitting a respectable .271 with one home run and eight runs batted in.
Overall in 37 minor league contests, between Class A and Rookie, he is batting .240.
Once Koenig's first pro season concludes, he plans on taking some time off to recharge while getting healthy before working on all aspects of his game.
"Personally I need to get healthy again," Koenig said. "It's a long season playing almost 140 games [between college and pro baseball] and I have some nicks and dings that I need to have looked at. I'll come back next year strong.
"There is not one specific thing that I am going to focus on. I'm just going to work on becoming an all-around better player."
Check out the feature articles I did regarding Sam Koenig earlier in the year:
Koenig has the potential to get drafted
Koenig thrilled for next opportunity