Quentin Holmes bursts onto the scene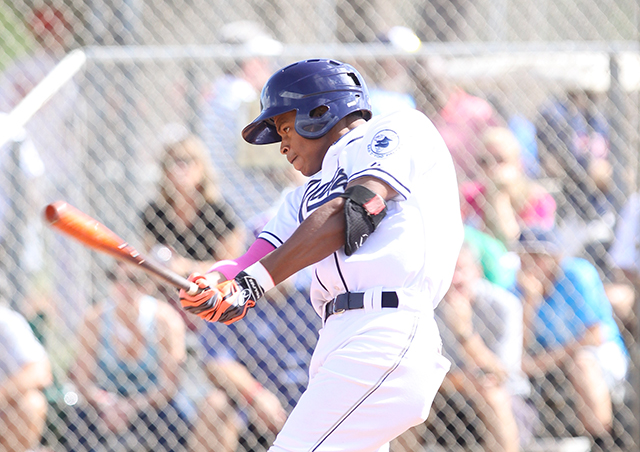 Baseball players in the northeast region of the United States sometimes have trouble getting noticed by universities and professional scouts due to the weather and competition level.
New York senior prep outfielder Quentin Holmes is a promising prospect, but he wasn't closely watched by scouts and college coaches until two years ago, he said.
His stock rose significantly last summer, when he participated in showcase events and with Team USA.
"That was amazing," said Holmes about playing with Team USA. "I'll never forget the teammates and what I learned from the coaches. It was a life changing experience for me. It was something I enjoyed a lot."
MLB.com ranks Holmes as the 33rd-best prospect in June's MLB First-Year Player Draft. But like other high-profile draft prospects, he's leaving the draft pressure for others to worry about.
"I just take it in strides," said Holmes about the draft. "My parents taught me from day one not to have a big head. I take it day-by-day and just go by the flow."
A Mississippi State commit, Holmes is a dynamic player on both sides of the ball due to his elite speed. He covers a lot of ground in centerfield and is a major base stealing threat.
"My ability on both sides of the ball to use my speed," said Holmes about his biggest strength in his game. "On the bases and in the outfield. Using my speed and reaction time to read balls and take extra bases when an outfielder misreads a ball. It's helped me out a lot."
Holmes is likely the fastest prospect in this year's draft class, but the jury is still out on his hitting ability. He has room to grow, but has to prove he can consistently make hard contact.
Last summer, Holmes hitting ability improved as he participated on the summer showcase tour. He shortened up his swing and had a better approach at the plate.
"I feel like I've gotten better because I know what I need to do to improve my swing and what I need to do to be successful," Holmes said. "I didn't know that before because I hadn't faced the best talent in the country."
During the off-season, Holmes continued refining his swing in the batting cage. While pro scouts are eager to see how he performs in the months leading up to June's draft, Holmes isn't worried about the attention.
Instead, he's only focused on having a successful senior season of high school baseball.
"I have to break the stolen bases record for varsity," said Holmes of his goals. "The record is 55 and I have 52. I plan on breaking that record. Then, I just want to win games. I think we are in contention for a (state) championship."
Find more MLB Draft coverage here.