Q&A: Milwaukee Panthers star, Julie Kolinske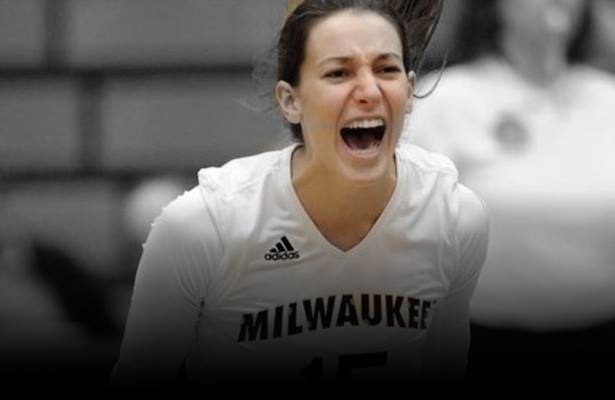 There is no question Milwaukee Panthers senior volleyball player Julie Kolinske has had a stand-out career wearing the Black and Gold, tallying over 1,000 career kills, while being named to the All-Horizon League team as a junior and helping the volleyball program make two NCAA Tournament appearances over the last three seasons.
In her final season as a Panther she has continued her superior play, resulting in Milwaukee earning the opportunity to win another Horizon League crown and making another NCAA Tournament appearance.
But, at times, Kolinske has had to cope with knee injuries, to the point that she thought she might not be playing volleyball competitively past the high school level.
Recently, I had the opportunity to sit down with the Milwaukee star, as she reflected on her life as a Milwaukee Panther and her career on the court.
Why was Milwaukee the best fit for you to continue your volleyball career?
My senior year I tore my ACL playing basketball so my high school coach knew Susie (Johnson). She was saying to me you know you have more of a volleyball body than a basketball body, I don't really know what you are think here, but if you are thinking about volleyball, what about UWM? My sister went here and she really liked it so I thought staying in the area would also be a good thing, especially so my family can come to games. So when she offered me the opportunity to walk on at a Division I program, I took it. It wasn't anything I would have expected.
How big of a challenge was it for you to miss your final high school season, especially after your team finished second in state when you were a junior?
Being on the sideline for both sports (basketball and volleyball) that I worked so hard for was tough. I thought it would be the last year of both. I didn't know what I was going to do after, so watching everyone else play and having to do the rehab on the side was probably the hardest thing.
You then redshirted your freshman season, how did you tolerate not playing for two straight years?
It was hard. You miss the games, the competitive sprit, but at the same time we (had) a lot of that competition at practice – more than you would think. A lot of it was satisfying in a way. At the same time I thought it was such a great opportunity because she (Coach Johnson) saw potential in me and wanted to give me another year.
You were named the Horizon League's Preseason Offensive Player of the Year. Did that place additional pressure on you, and if so, how did you manage the stress?
I try to put that in the back of my mind, but obviously that has been a goal of mine since I got here. I'm always trying to set the bar high. I know I have to work hard otherwise I'm not going to get those goals I want. Putting the preseason recognition in the back of my mind allows me to have more fun on the court and just play. I know I play my best when do I think that way. Ignoring that for the moment is kind of important.
This season you became the 11th player in program history to record over 1,000 kills in your career, what is your reaction to becoming one of the top players in the program over the last four years?
It's awesome, and if you would have asked me that a few of years ago, I would have never believed it. I would have thought I might be playing basketball or that I might be all right. But, I never thought it'd be something I loved so much that I actually want to do the workouts everyday, and that I want to get some reps in at the gym. All those extra hours do payoff, I'm not going to lie, I wouldn't have expected it at the time.
What advice would you give to an incoming recruit?
Practice 110 percent everyday. You think you're never going to get in. It's hard. You have to work your way from the bottom to the top. You put in those extra hours, someone gets hurt, you get a chance everyday, there's so many opportunities to get in there. Once you get it, take that opportunity and run with it.
The volleyball program has a history of success, how do you and your teammates deal with expectations?
We actually talk about them right away at the beginning of the year. It's kind of like, lets get this out in the open, everyone's got a target on their back. We are a program that is successful. We are a program that other teams in the conference look at trying to shutdown. People do get scared of us, which we like. We do get it out of the way so freshmen know what to expect, and we hold those high standards so weren't surprised at what anyone brings at us.
What is your favorite memory as an athlete for the Milwaukee Panthers?
Probably some of the road trips, I would say Duke. That was pretty cool. Having a trip like that is bound to give you some great memories, but the relationships that you build along the way too.
If you could change anything in the past 4 years, what would that be?
I do wish I wouldn't have torn my ACL again obviously, but I do think it made me a stronger person. It made me want it more. It actually might have made me better, everything does happen for a reason. So not really, I don't really regret much.
What are your plans after graduation?
I am not sure. I am thinking of playing beach volleyball in California, I might do that for a bit to see what it is like. Otherwise I will probably be teaching in the area, but I will still continue beach, that is a definite yes.
Kolinske has been a player to remember and leader for the Panthers, dominating opposing defenses over the course of her four years in the volleyball program. And although it hasn't always been easy for her, she has persevered and became one of the top volleyball players in recent memory at Milwaukee. Kolinske and her teammates conclude the home portion of their schedule this Friday, November 7 at 7:00 pm and Saturday, November 8 at 4:00pm at the Klotsche Center.