Q&A: Milwaukee Panthers captain, Maria Stephans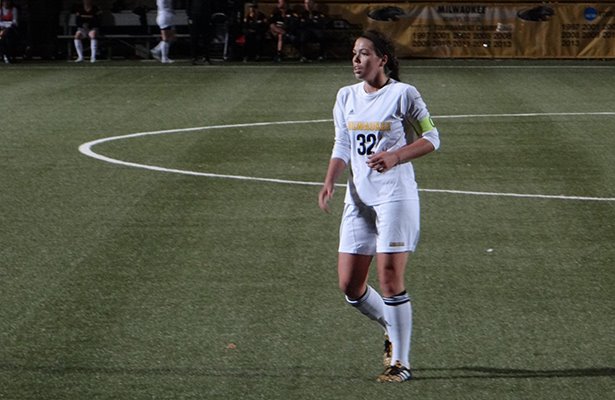 Game-after-game Maria Stephans dominated opposing team's defenses as the star forward at Hartford Union High School, finishing her career as the school's leading scorer with an incredible 74 goals scored. After her outstanding career wearing the black and orange, Stephans had a decision to make on where she was going to play college soccer.
The decision for her was easy. UW-Milwaukee was close to home, and had a successful women's soccer program filled with quality individuals. Stephans has now been in the program for three years, developing into a solid college player at the Division I level.
Recently, I had the opportunity to sit down with Stephans, and she reflected on her life as a Milwaukee Panther and her career on the pitch.
Why did you feel Milwaukee was the best fit for you to continue your soccer career?
Milwaukee just felt right. It was close to home, and a fairly small campus for being such a large university, as far as student numbers go. On my tours here I really liked the girls that I met and the coaches that were here. The coaches switched, but the girls are what really matters – it's who you spend the most time with. So I'd probably say proximity to home and the girls I met.
You left Hartford Union as the school's leading scorer (74 goals) and assist producer (55), along with a list full of accolades, what is it like to know that you are arguably their best offensive player to play for them?
I had great teammates when I was in high school, and they made it easy for me in a lot of the games so I have to thank them for a lot of my success. But, it is an honor and a lot of fun to know that I had a really good high school career.
How hard was it for you to redshirt your freshman season after being a star at the high school level?
It was tough going from playing in every game, to not being able to play in any games, but it has really helped me grow as a player and a person. I don't regret that decision at all.
What has been the biggest difference for you between high school soccer and the Division I college level?
I would say the speed of play and physicality. There is the best of the best in the Division I college game. They're faster, bigger, stronger than what you see in a lot of high school players. But, I think that redshirt year really helped me grow, and made an impact.
What was it like to score a goal and record an assist in that thrilling Horizon League Tournament championship game against Oakland last season, and then to also be named to the All-Tournament team as a redshirt freshman?
It was unbelievable. It's as good as you want it to go as a freshman. Although I had a year of training under my belt, it was still my freshman year. Just the fight we had as a whole team really showed in that game, and I was pretty happy that I was able to have an impact on it.
The women's soccer program has a history of success with winning 14 straight conference titles, how do you and your teammates deal with expectations?
It's a program with an unbelievable history, and we have worked to just keep the tradition going. I think that just our mentality of coming in and working hard, being the best we can be each and everyday, is something that is an expectation in this program. So we just try to meet that expectation each and every day.
It's a little bit of a different situation this year, but what do you and your teammates need to do to get some momentum going to make the conference tournament and hopefully make a run to get to the NCAA Tournament?
We've been working really hard, and that shows everyday when we get up for practice in the morning. Hopefully we will be able to put a few more shots in the back of the net, and finish this season off strong. Anything can happen if we make it to the tournament, and that's our goal right now.
How big of an honor was it for you to be named the team captain especially only being a sophomore?
A huge honor. There are unbelievable girls on this team, and we have a big senior class. To be named captain has been a lot of fun, and I'm learning a lot from our senior captain Kelsey Holbert, and just the team in general. I think the coaches and all the girls work well in trying to be the best we can be. I'm just trying to do that, and enhance it more as a captain.
Do you see yourself more as a midfielder or forward?
Coming out of high school I would have called myself more of a forward, but I've been working to adjust more into the midfield role. I was an outside mid primarily last year, and now I have got switched to more of a defensive midfielder role. It has been an adjustment, but I see myself more as a midfielder now.
I'm sure it is pretty difficult to pick one, but what is your biggest memory from your soccer career so far?
You are right it's not easy, there are a lot, but I would say the Horizon League Championship game last year. Just the ups and downs of the game, and being able to work through that as a team, is pretty unforgettable.
Stephans dominated high school soccer, and was a first-team All-State selection as a senior. She also was a two-time Little Ten Player of the Year award winner with the Orioles. Stephans is an extremely talented player with an outstanding work ethic, and continues to get even better. Panther fans need to keep their eyes on Stephans over the remainder of her career with Milwaukee because she is capable of being a special player for the women's soccer program.