Notre Dame's Peter Solomon eyes success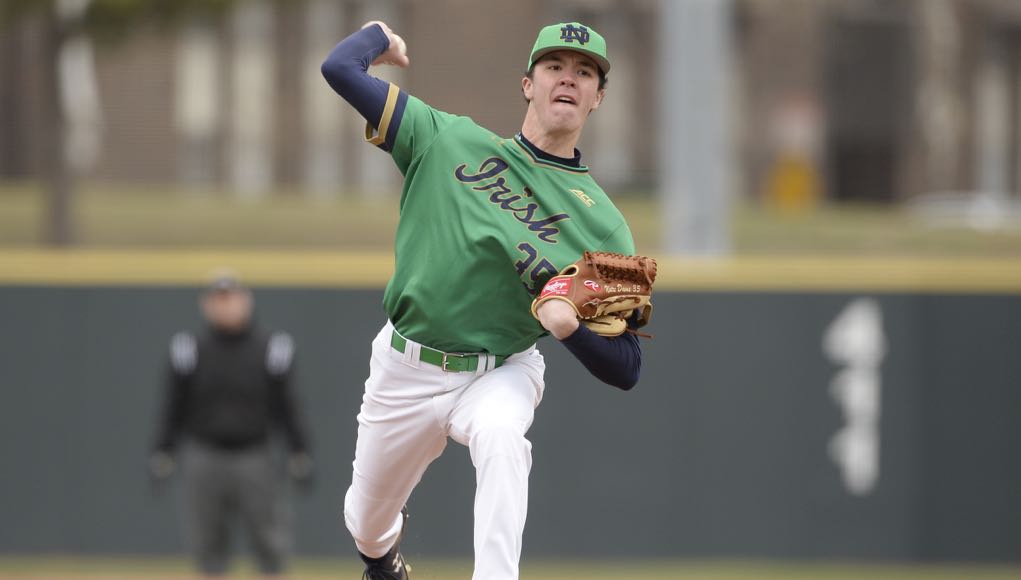 Coming out of high school, right-handed pitcher Peter Solomon was the top prep pitching prospect in the state of Maryland in 2014. He could have turned pro, but he remained loyal to his commitment to Notre Dame and slid to the San Diego Padres in the 21st round of the 2014 MLB First-Year Player Draft.
Although Solomon's first two years with the Irish haven't gone like he envisioned, the junior hurler will likely be an early round selection if he performs up to expectations this spring.
A 6-foot-4, 190-pound righty, MLB.com ranks Solomon as the 49th-best prospect in June's MLB Draft. But like other high-profile draft prospects, he's leaving the draft pressure for others to worry about.
"It might be a big year, but I'm just focusing on the team goals," Solomon said. "Going for a ACC championship and NCAA regional. Just remembering the team goals and not focusing on the personal goals."
As a freshman at Notre Dame in 2015, Solomon battled shoulder issues. He then struggled with his command as a sophomore in 2016.
Following his sophomore season with the Irish, Solomon broke out in the prestigious Cape Cod League as a starter and reliever, posting a 0.55 ERA and .086 opponent batting average last summer.
"It was a fresh start for me," Solomon said. "I just played my game instead of worrying about the outside things I couldn't control. Just going out there, doing my thing and staying within myself.
"I realized I was getting tense every time when I went into pitch. I was putting too much pressure on myself. I just realized I needed to relax and have fun."
Solomon possesses a four-pitch mix, featuring a fastball, slider, curveball, and changeup. His mid-90s fastball, curveball and slider are all above-average offerings.
"My biggest strength are my off-speed pitches," Solomon said. "I think I have two really good offerings. I don't think there are a lot of guys that can say that."
As a sophomore last season, Solomon posted a 4.68 ERA with 71 strikeouts and 42 walks in 57 2/3 innings. This past off-season, he worked on refining his pitches to have better command this spring.
"Something I worked on last summer and in the fall is throwing more strikes," Solomon said. "That why I had a rough time last year was because of walks. Just focusing on first pitch strikes. That's been a big emphasis for me."
In two starts this spring, Solomon has a 3.27 ERA with 11 strikeouts and five walks in 11 innings.
While he isn't focused on his individual success, Solomon hopes he continue to progress this spring. He also wants to have a memorable junior season by leading the Irish deep into postseason play.
"I would say I don't have too many personal goals," Solomon said. "Just being a good teammate. Being someone guys can come to and someone who brings a lot of energy to the games. Being someone guys look up to."
Find more MLB Draft coverage here.