Milwaukee plays on Super Bowl Sunday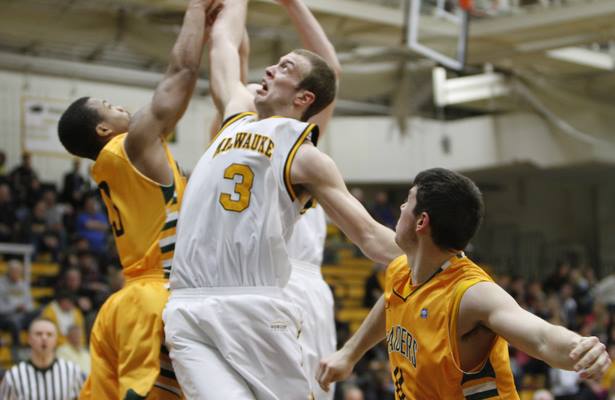 Oakland Grizzlies (9-14, 4-4) vs. Milwaukee Panthers (14-9, 4-5)
Location: Klotsche Center – Milwaukee, Wisconsin
Time: 12:00 p.m. CST
Broadcast: TV – HorizonLeague.com; Radio – WISN-AM1130
Nine games into the Horizon League schedule the Milwaukee Panthers have been mediocre, as they sit near the bottom of the league standings. Only seven games remain in the regular season, and it will be an up hill battle for the Panthers the rest of the way as they try to capture one of the top four conference tournament seeds. The challenge begins on Super Bowl Sunday as they face off against the Oakland Golden Grizzlies.
A little over three weeks ago these two teams squared off with the Panthers capturing the 84-75-road victory. It was not one of their better performances as the Panthers fell behind by double digits within the first few minutes of the game, and also almost failed to hold a 20 point lead in the second half.
The Golden Grizzlies may only have nine wins, but they played as tough of a nonconference schedule that you will see a mid-major play. They had to play against teams like Michigan State, North Carolina, Indiana, Gonzaga, Cal and UCLA.
Oakland has been a solid offensive team this season averaging 74 points while making 42.8 percent of their shots, including 34.9 percent of them from behind the arc.
The Golden Grizzlies defense on the other hand is not that good as they usually get outrebounded, and allow their opponents to score 77 points on 48.1 percent shooting per game.
If Milwaukee wants to have a chance at winning this game they will need to slow down senior guard Travis Bader. He is clearly Oakland's go to player offensively averaging 19.4 points on 37.3 percent shooting from the field per game. Bader is also only three three-pointers away from setting the all-time NCAA record, which is currently held by former Duke sharpshooter, JJ Redick.
Joining Bader in the starting lineup will be guards Kahlil Felder and Duke Mondy, and forwards Tommie McCune and Corey Petros.
Milwaukee will counter with their usual lineup featuring guards Steve McWhorter and Jordan Aaron, and forwards Austin Arians, Matt Tiby and Kyle Kelm.
Fans never know what to expect from the Panthers on a game-to-game basis as one day they will get destroyed against a below average team, and then the next game they will knock off one of the better teams in the league. Milwaukee needs to win this game especially since it is at home, and if they can attack down low in the post offensively while limiting the amount of turnovers, they should be in this game until the end.