Braun remains confident in new baseball facility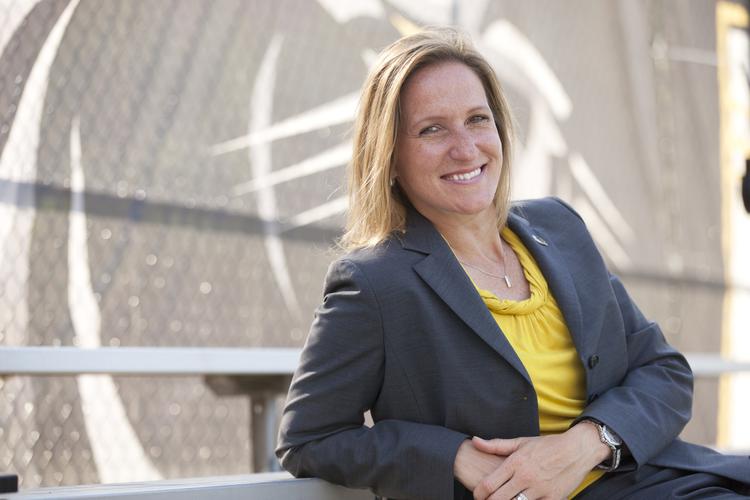 After years of brainstorming by numerous athletic directors, Milwaukee Panther athletic director Amanda Braun finally came to a solution for the program's desperate need for a new state-of-the-art baseball facility.
At the end of 2014, it was announced that the Panthers were joining forces with MKE Sports & Entertainment LLC to construct a 4,000-seat multi-use stadium at an unspecified site in Oak Creek by 2016.
However, in early summer Mike Zimmerman, owner of MKE Sports & Entertainment LLC, broke off talks with Oak Creek after an unsuccessful attempt to buy land in his desired spot near Interstate 94.
This caused Zimmerman to take another stab at building his sports complex in the city of Franklin, somewhere he failed to get it approved back in April 2014.
Despite the holdups, Braun still remains confident that this project will get done.
"I met with them two weeks ago and he [Zimmerman] seemed to be making some really nice progress there," Braun said. "He showed me some renderings and their concepts. They don't have approval for it yet. But they are working with the community there and the partners they have. I feel pretty optimistic."
Braun stated that even though this process has taken longer than maybe expected, she never looked into any other potential options for a baseball stadium since their partnership with MKE Sports & Entertainment LLC.
"I knew about returning to discussions with Franklin before even the Oak Creek land acquisition fell through," Braun said. "They were not talking actively with them. I guess Franklin had come back and kind of inquired. Once that didn't work at Oak Creek, they were right there talking within a week time. I was aware of it. We haven't explored a whole lot."
Now since the new baseball stadium won't be ready for the 2016 season, like originally planned, the Panthers will continue to play their home games at Henry Aaron Field.
Henry Aaron Field, home of the Panthers since 1994, is not the ideal home for the state's only Division I baseball program. But, the Panthers are planning some renovations that will enhance it for at least one more season before their new home is constructed.
"We just finalized some things with the county to get Henry Aaron Field resurfaced and their final vote will be next week," Braun said. "That's something we've been focused on. Creating a great environment in terms of better surface for our guys at Henry Aaron Field, and I think we are making progress with that."
The $209,000 project, which will be financed by the UWM Real Estate Foundation, entails installing synthetic turf in the infield and bullpen areas at Henry Aaron Field in time for the 2016 season.
Braun didn't rule out the possibility of making more improvements to "The Hank" in the future, but she stated that their No. 1 priority is the partnership with MKE Sports & Entertainment.
"We should know about the stadium concept I would think in the next few months, in this calendar year," Braun said. "That's what it is sounding like in my conversations with Mike [Zimmerman]. I think we will see what happens there.
"There is always the concept that we could approach the county to some other things at Henry Aaron. But we want to have the type of experience for our guys and our fans that Mike is envisioning. If we can get that done and be a partner with him then that's our priority."
Check out the article from earlier in the year regarding Milwaukee's partnership with MKE Sports & Entertainment here.