Michael Young is a perfect fit at first base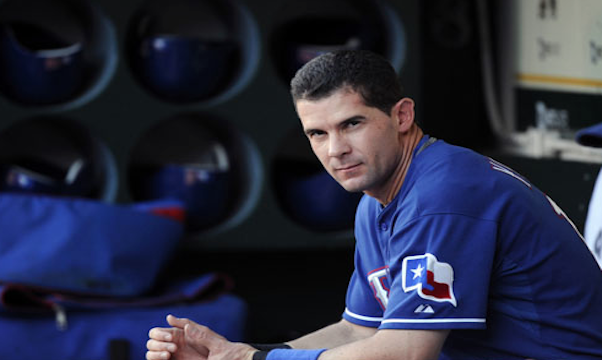 Finding someone to play first base for the 2014 season has been atop the Milwaukee Brewers shopping list since the beginning of the offseason, and it is now time for the Brewers to finally check it off their list. While they have explored options including resigning Corey Hart or trading for Ike Davis, nothing has happened yet. One solution could be veteran infielder Michael Young.
The 14-year veteran is 37 years old, and although his great years are behind him, he still has enough left in the tank to be a solid contributor next season. Young split last season with the Philadelphia Phillies and Los Angeles Dodgers showing his ability to still hit for average and get on base (.279/.335/.395). While Young has played on the left side of the infield for most of his career, he has experience playing anywhere in the infield including first base.
Bringing in Young would not only fill their opening at first, but it would also allow the Brewers to give Hunter Morris more at-bats and time to develop in Triple-A. He would also be a great clubhouse guy, who could teach the young Brewer hitters a few things about being successful big league hitters.
In this stage of Young's career he can still be a solid contributor, while playing on a short term deal for an affordable price. He solves the Brewers first base issue for the short-term while the Brewers wait for their young first base prospects to be major league ready. Signing Young makes so much sense, that the Brewers need to make sure that he is wearing their jersey next season.