Mason Englert shows improvement, gains pro interest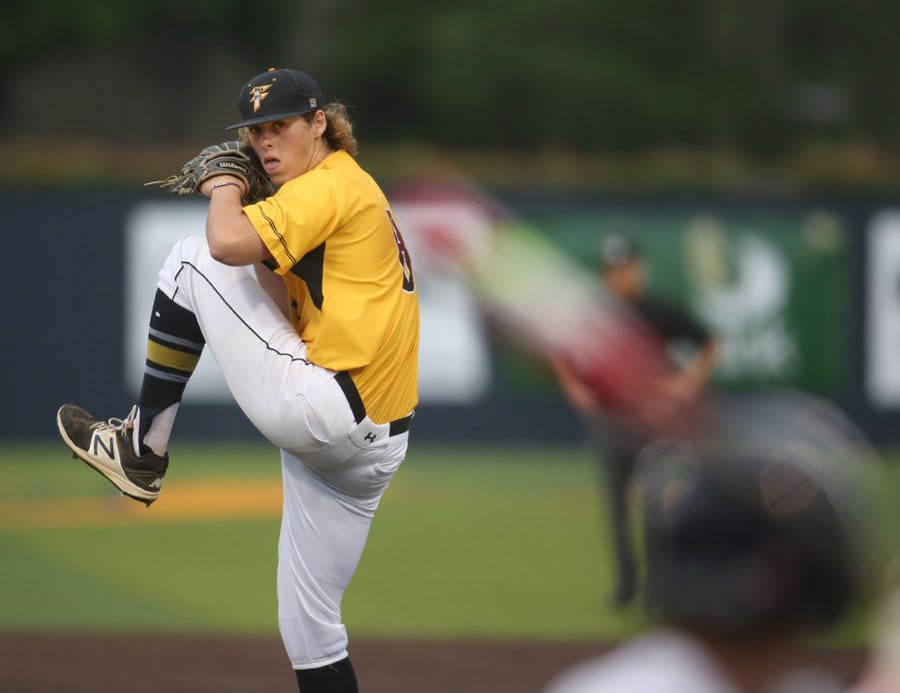 Mason Englert, a prep right-handed pitcher at Forney High in Texas, has been nearly unhittable this spring. He's increased his fastball velocity, while setting a new state record of 55 1/3 consecutive scoreless innings.
His success and projection as a 6-foot-4, 205-pound 18-year-old righty has made him a desirable prospect in the 2018 MLB Draft, which begins June 4. MLB.com ranks Englert as the 115th-best prospect in this year's draft class.
"I have taken it as it comes," said Englert on the draft. "If there's some questioners and some meetings that I have to do, then I'll do them. My biggest thing this year has been focusing on where my feet are at and not looking ahead. I've just been trying to enjoy high school while it lasts."
Englert's fastball reached 93 mph as a sophomore at the 2016 Area Code Games. Motivated to increase his velocity to the upper-90s, Englert bulked up in the weight room, increasing his weight from 180 pounds to 226 pounds entering his junior year.
But when Englert stepped onto the mound his junior season, his fastball velocity dropped to the upper-80s. It also didn't have as much movement. He lost flexibility and the ability to naturally throw hard. Adding muscle to his frame backfired on Englert.
Englert went to a therapist to become more mobile again, he said. He also cut down his weight in hopes of returning to his sophomore year form.
His commitment this past offseason has paid off this spring. His fastball sits in the low-90s and possesses slight sink. It's also hit best pitch in his four-pitch repertoire.
Englert also throws a slider, curveball and changeup. His low-80s slider has late break and is his best secondary pitch.
"My biggest strength is my ability to locate and move the ball," said Englert, who credits his father for his development. "My fastball is good but I'm not up there throwing up in the high-90s consistently. It sits in the low-90s most games so I think to sink and cut and throw a couple different breaking balls and my changeup is my biggest strength."
Englert has refined his changeup this spring. He's thrown it frequently, which has allowed him to gain confidence and better feel for the pitch, he said.
"It's always been a good pitch, but I've never really thrown it in high school," he said. "The past couple of weeks I've thrown it at times. In initial outings this year, there were times were I threw it eight or nine or maybe even 10 times in a game. I think it's an important pitch to have."
Englert is still pitching for his high school team, who are in the midst of a playoff run. He's plays for the same program as well-regarded left-handed pitching prospect Jonathan Childress.
With the MLB Draft quickly approaching and his high school season still going, Englert is try to remain focused on the present and not his future baseball destination. Committed to Texas A&M, Englert will have a difficult decision ahead, choosing between college baseball and the professional ranks.
"If it works out, it's a good opportunity. But at the same time, Texas A&M is really important to me," Englert said. "It's going to play such a big factor because I know how good of a program it is. I've loved A&M my entire life. I guess we will see what happens. I really do love A&M so I'm not a guy who's 100 percent taking what happens in the draft."
READ: 2018 MLB Draft: Profiles on 35 top prospects
READ: 2018 MLB Draft: Mock Draft
READ: The3rdManIn.com's MLB Draft prospect history