Hiring Jason Kidd is a brilliant move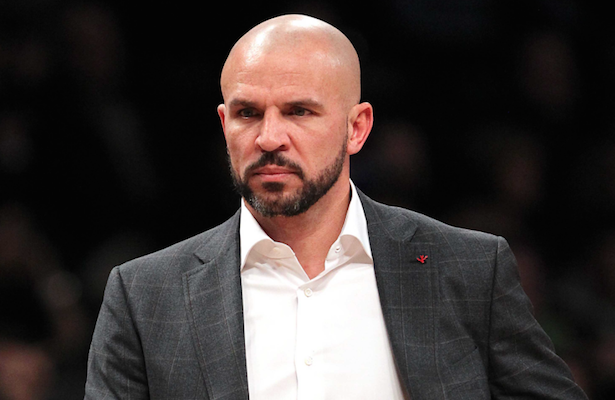 Milwaukee Bucks co-owners Wesley Edens and Marc Lasry are committed to winning, and they are not afraid to do what they feel is best for their franchise, no matter what anyone else thinks. This was well-displayed Monday morning when they officially acquired Jason Kidd from the Brooklyn Nets to become the Bucks new head coach.
The one problem and reason why many people are irate about this move, is that Larry Drew was not informed until after the deal was complete, that he will not be returning as the Bucks head coach.
Sure the execution was poor, but the decision to bring in Kidd was brilliant.
Prior to the deal even being complete, everyone around the NBA was buzzing about the Bucks, something that hasn't happened for the struggling franchise in well over a decade. Plus when the season begins the Bucks will still be talked about on a national level, as many basketball fans are curious to see if this acquisition of Kidd actually pans out.
At the end of the day regardless of how good or bad of a coach Kidd becomes, the franchise's success will be determined by how good the players are, not the coach.
Unfortunately in Drew's case his team last season was atrocious, but that is not the main reason he was fired. Edens and Lasry did this move in hope that Kidd can succeed.
When you spend $550 million to purchase a team, it is expected that the new owners will bring in their own people. The move to hire Kidd was just that.
What so many people seem to forget is that Kidd's hiring means the Bucks are trying to attract talented free agents to the city of Milwaukee. It is unlikely that the Bucks will ever be in play for top tier free agents like a LeBron James, but not many franchises are.
The Bucks are trying to lure the second tier free agents to come play for them. Not very many talented free agents view Milwaukee as a destination place when they hit free agency, and that is what Edens and Lasry are trying to change.
Hiring Kidd is a step in the right direction. Assembling a roster filled with young talent such as Jabari Parker and Giannis Antetokounmpo will also help.
Edens and Lasry are willing to spend money in order to see their franchise compete for championships, and the hiring of Kidd is the first step towards that. While many people maybe upset about the way Drew was treated, winning cures everything. If the Bucks and Kidd are able to continue to improve as a team, then no one will be talking about the Drew situation a few years from now. Hiring Kidd opens the door for so many possibilities, and it will be an exciting time for Bucks fans to see the young coach and team develop into something special.