Griffin Conine learns from his big league father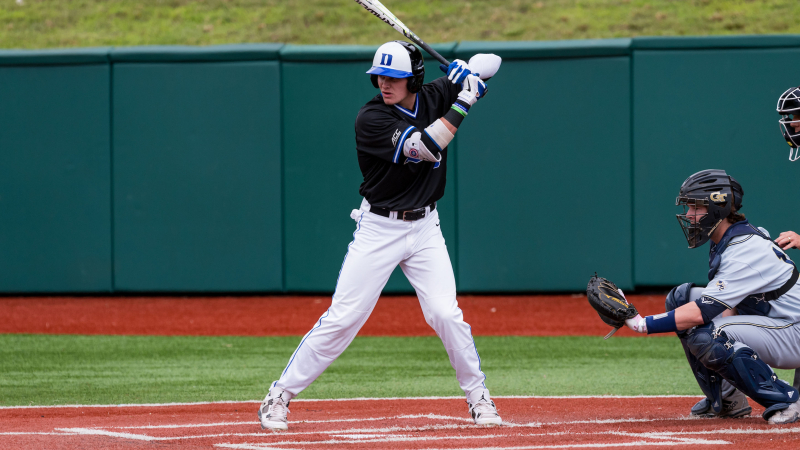 Duke outfielder Griffin Conine has had the luxury of growing up with a father who played professional baseball. Jeff Conine spent 17 seasons in the major leagues and has played a critical role in his son's development.
Although Jeff had a successful big league career, highlighted by winning two World Series with the Florida Marlins in 1997 and 2003, his path to professional baseball was a bit different from Griffin's potential route this year.
The Kansas City Royals drafted Jeff out of UCLA, where he was a relief pitcher, in the 58th round of the 1987 MLB Draft. He only had one at-bat with the Bruins, but Royals scout and former UCLA pitching coach Guy Hansen recommended Jeff to general manager John Schuerholz. He said Jeff was the best hitter on UCLA's team.
While Jeff was an underrated prospect coming out of college, Griffin is the complete opposite. Griffin has professional scouts buzzing and shouldn't have to wait as long as his father did to hear his name called in the draft.
MLB.com pegs the younger Conine as the 19th-best player in the 2018 draft class.
"I just try to put it to the side," said Griffin on the draft. "The plan is to just play my game and have fun doing it, while trying to get us to Omaha for the College World Series. That's my main goal. Whatever happens in June with the draft will be a byproduct of what we accomplish as a team at Duke."
A junior outfielder at Duke, Griffin profiles as an athletic right fielder in pro ball due to his strong arm and at least average speed. Griffin is one of the top power hitters in the 2018 draft class, after hitting .298 with 13 home runs and 56 RBIs in 218 at-bats as a sophomore in 2017.
One area he's improved is his ability to drive the ball to all fields. The left-handed hitting outfielder displayed that skill in the 2017 Cape Cod League, and major league scouts took notice, naming him as the league's top pro prospect.
"I felt like I had to pull it to have talent and beat outfielders over the head," he said. "That was something that might have contributed to some slumps I had in my freshman year. That was something I was able to learn in the Cape was seeing the ball deeper and drive them to left field and left-center."
Cutting down on his strikeouts is one goal Griffin has set for himself this season, after striking out in 20.6 percent of his at-bats with Duke in 2017.
"Power hitters are going to swing and miss a lot, but that's something I can't accept," he said. "I hate swinging and missing and striking out. I think you have to be able to be good at putting the ball in play with two strikes. That's something that's going to be important for me going into this year."
Find more 2018 MLB Draft profiles here.
READ: 2017 MLB Draft: Profiles on top prospects
READ: The3rdManIn.com's MLB Draft prospect history