Elliot Mast fights adversity, makes an impact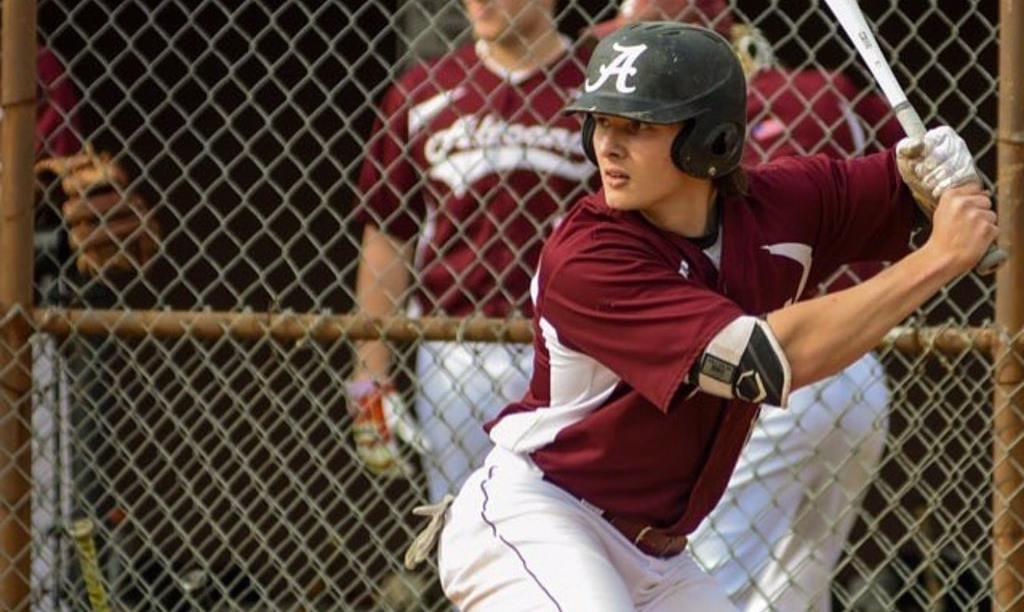 For many people baseball is just a game, but for Elliot Mast it's much more than that. It's a blessing, an opportunity to help others and something he hopes to make a career out of, as he could hear his name called in June's MLB First-Year Player Draft.
Mast wasn't born with the talent and natural skills to play baseball. He was born with a club foot, which almost took away his ability to play the sport he loves.
A doctor even told him he'd never be able to walk or run. After undergoing surgery and intense physical therapy when he was younger, Mast has overcome the obstacles thrown in front of him, developing into a talented baseball player.
"There were a lot of things I couldn't do, but God blessed me to be able to do those things," Mast said.
A 6-foot-3, 210-pound outfielder, Mast is from Pennsylvania and plays for Altoona Area High School.
If he gets drafted this June, he could start a pro career this summer, as Perfect Game ranks him as a top 400 prospect. Mast is drawing interest from multiple major league teams and has private pre-draft workouts scheduled with the Atlanta Braves and Baltimore Orioles in the first two weeks of June.
If the MLB Draft doesn't work out in Mast's favor this June, he will have an opportunity to reenter the draft next year, as he's committed to Chesapeake College, which is a junior college. He received offers from multiple Division I schools.
"With the draft and everything that's going on, it was a hard decision with the Division I offers," Mast said. "Knowing that if you go D1 you have to stay there until your junior year, that was kind of a throw off for me.
"With JUCO you can go for a year and then into the draft. That's was down my alley. That's my main focus."
Mast is known for his powerful bat and energy he brings to the field. In 16 games with his high school team this spring, Mast is hitting .320 with five home runs, 15 RBIs and a .411 on-base percentage.
"Within six games this year I had four home runs," Mast said. "That has always been my strength. I'm able to drive pitches the other way with ease."
This spring, Mast has prioritized improving defensively. Mast has only one-year of experience in the outfield, after playing shortstop and third base growing up.
"My outfield and getting better reads on the ball," Mast said. "Working on some agility things. There's a lot of room for improvement. Always working to improve my game. I like playing the outfield. I'm adjusting well."
Mast's passion for the game is fueled by helping children who encounter challenges. When he was younger, Mast started a charity called, For the Kids, or "FTK" for short, and partnered with The Children's Hospital of Pittsburgh Foundation to help children.
Since his charity's inception in 2010, Mast has raised over $21,000 to help children enjoy their experience at the hospital by providing them with items such as toys, games and video games.
"When I was 10 years old I was fishing with my dad and mentioned how Curtis Granderson had a charity," Mast said. "I asked (my dad) why can't I have something similar to that. We ended up contacting Children's Hospital of Pittsburgh and went from there."
While Mast takes donations and holds a silent auction each year, he also uses baseball to help generate donations by having people sponsor him for every home run and base hit he records and every strikeout he throws on the mound.
He's also gathered support from professional athletes, minor league teams and different corporations. Some of his supporters are former Pittsburgh Steelers safety Troy Polamalu, former major league pitcher Paul Maholm and Honda Motor Company.
Raising money to help children has been a wonderful experience for Mast and has made him even more devoted and passionate about the game of baseball.
"I thought about how I was okay – I can walk and run – and thought about the kids who can't," Mast said. "Why can't I help them? That is what fueled that part of the charity."
Find more MLB Draft coverage here.
READ: 2017 MLB Draft: Profiles on top prospects
READ: The3rdManIn.com's MLB Draft prospect history