Despite predictions, goal is to make NCAA tournament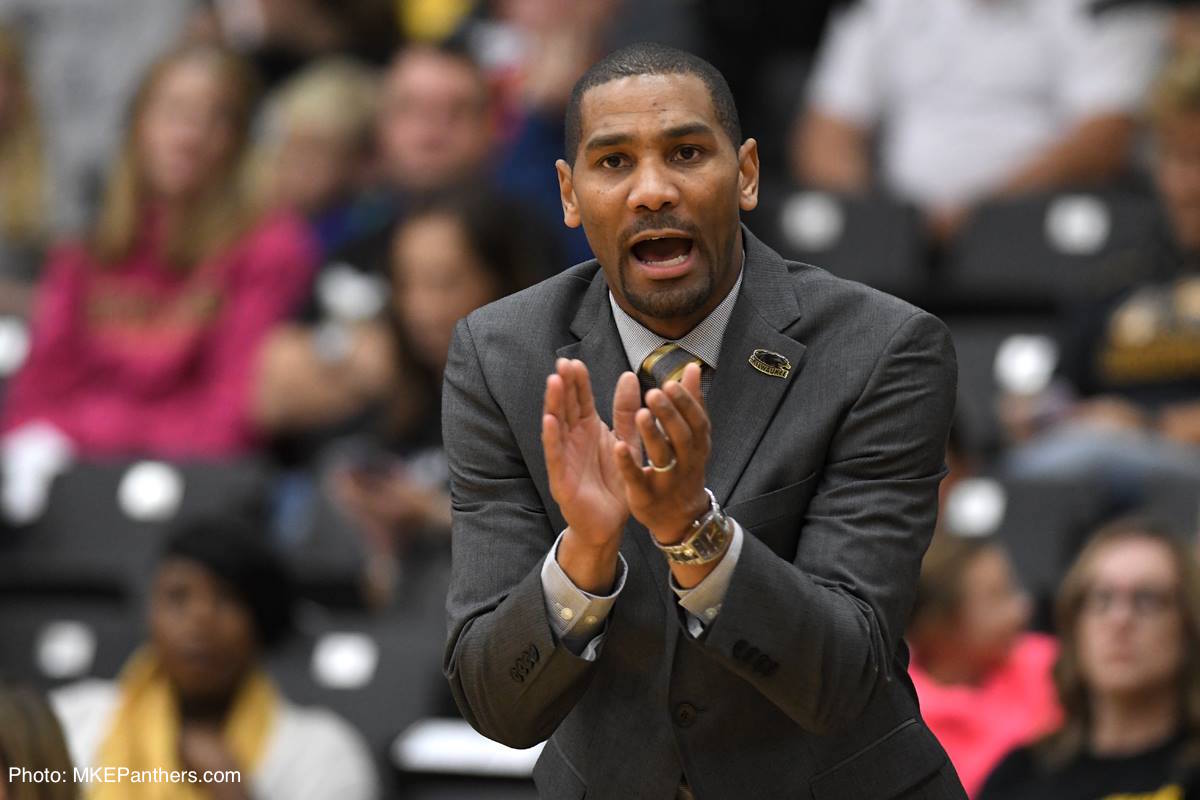 The 2016-17 season will mark a new era of Milwaukee Panthers men's basketball. After a disappointing 2015-16 season that saw the Panthers finish an underwhelming fifth in the Horizon League, head coach Rob Jeter was dismissed.
Highly regarded Michigan assistant coach LaVall Jordan replaced Jeter, becoming the sixth head coach in Milwaukee's Division I history.
A 37-year-old first-time head coach, Jordan has already brought a buzz and enthusiasm to Panthers basketball. But his first season on the job, won't be an easy one.
The Panthers were selected to finish last in the 10-team Horizon League preseason poll, receiving 72 points, while ninth-place Youngstown State tallied 125 points.
This wasn't a surprising projection. With the loss of its top five scorers to graduation or transfer from a year ago, Milwaukee's roster is filled with little experience.
"We were picked last?" Jordan said jokingly. "I didn't pay much attention. It's been a grind and a whirlwind from Day 1. I haven't watched much TV or paid attention to much programming or any of the ratings or rankings. It's been about these guys and how do we give them the best opportunity to compete?
"You hear it briefly, you embrace it and say, 'OK, let's just get better, do our best.' I think our best will be pretty good."
Despite low expectations around the conference, the Panthers No. 1 goal is to win the Horizon League and make a NCAA tournament appearance.
Playing defense is key for the Panthers if they want to earn a berth into the NCAA tournament.
"That's what we've been working on a lot (is defense)," senior guard Cody Wichmann said. "A lot of defensive things and ultimately making shots. We have a lot of guys who can score the ball. I'm excited about it. We are going to play defense and run."
The program's last trip to the NCAA tournament came in the 2013-14 season. That year the Panthers were predicted to finish last in the preseason conference poll, but went on a magical run in the conference tournament as the No. 5 seed to earn an automatic berth into the Big Dance.
This year's squad is hoping for a similar result.
"In 2014 we had the run where we were picked dead last, just like we are now," senior forward Dan Studer said. "We don't really pay attention on that because predictions are based on the past. We are just hoping to do the best we can. Hopefully make a deep run in the conference tournament and make it to the Big Dance."
Wichmann is the Panthers leading returning scorer, averaging 4.8 points and 2.0 rebounds per game as a junior last season. A dangerous 3-point shooter, Wichmann figures to be the Panthers go-to scorer this season.
Besides Wichmann, Jordan said the starting rotation is still up in the air.
The Panthers have a lack of size on this season's roster. Alex and Brett Prahl are 6-foot-9, and Studer, Zac Saddler and Bryce Nze all measure in at 6-foot-7.
The Prahl twins and Studer received little playing time last year for the Panthers, while Saddler and Nze are freshman. Jordan isn't worried about the size issue, however.
"That's nothing new for me," Jordan said regarding his team's size. "It's getting guys to understand that (lack of) size can be an advantage. We can be playing underneath people and sometimes it's more bothersome than being bigger.
"We've got to be tough together – especially on the glass. Gang rebound and be physical. On blockouts is where it may show the most. You've got to be tough enough to do what's required."
Milwaukee plays only four non-conference games at home this season, including its season opener on Nov. 11 against Division III MSOE. The Panthers regular season non-conference schedule consists of five different teams that played in the postseason a year ago.
One familiar foe that won't be on the Panthers schedule is the Wisconsin Badgers. This is the first time the Panthers and Badgers haven't squared off since the 1991-92 season. Milwaukee upset the Badgers in Madison last season.
As The3rdManIn.com reported in August, Jordan hopes to add Wisconsin and Marquette to the schedule in the upcoming years. He continued to express those same beliefs in late October at Panthers Media Day.
"I think that's great for our state to be able to have those games," Jordan said. "Those are healthy games. I've been asked that question maybe as much as any – 'When are we going to play Marquette or are we playing Wisconsin again?'
"But those are conversations for the future. We're not able to announce anything like that yet. But I think those conversations take place every year."
Read other feature articles on current members of the men's basketball team here:
— Saddler thrilled for opportunity at Milwaukee
— LaVall Jordan determined to build winning culture
— Wichmann believes team can prove doubters wrong