Dakota Hudson soaring up MLB Draft boards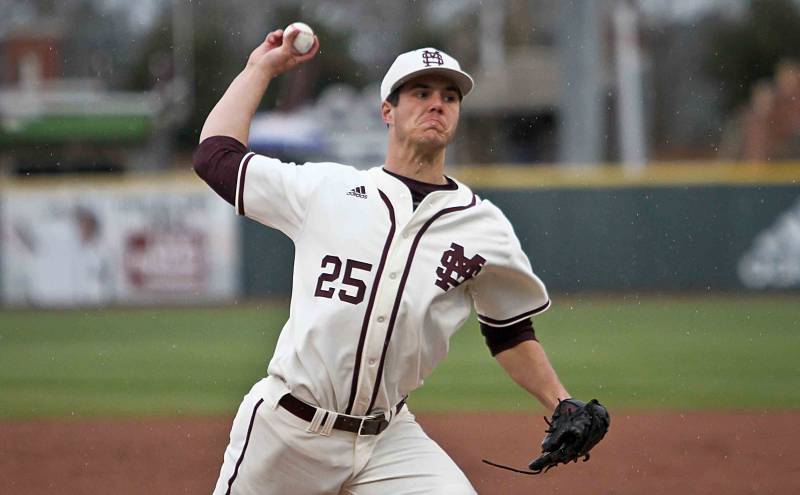 Each spring there are players who improve and hurt their stock for the MLB First-Year Player Draft. Although, some highly regarded college pitchers have struggled early on this season, one college arm who is soaring up draft boards is Mississippi State right-hander Dakota Hudson.
Entering the 2016 college baseball season, Hudson had major question marks surrounding him, as he struggled with command and consistency over his first two college seasons.
But, after dominating the prestigious Cape Cod League last summer, Hudson gained confidence and hoped to carry his success over to the 2016 college baseball season.
Hudson has done just that, as he is 4-1 with a 0.92 ERA in seven starts (48.2 IP) this season. He has also registered 56 strikeouts compared to 18 walks and an opposing hitters batting average of .187.
Due to Hudson's performance so far this season, the junior hurler has gone from being a likely early round selection to being a potential top 10 pick in June's MLB Draft.
Hudson was originally drafted in the 36th round of the 2013 MLB Draft by the Texas Rangers out of high school, but turned down the opportunity to turn pro and attend Mississippi State instead.
Now after two challenging seasons to begin his college career, Hudson looks like he's close to reaching his dream of playing professional baseball, if he can continue his high level of production the rest of the season.
Read my feature article I did on Dakota Hudson earlier in the year here.
Find more MLB Draft coverage here.