Should Brewers convert Peralta into a reliever?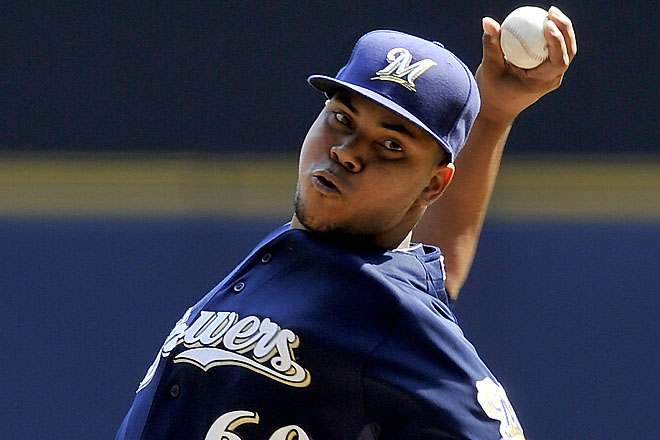 When Wily Peralta pitched 198 2/3 innings and went 17-11 with a 3.53 ERA in 2014, it appeared Peralta would be a mainstay in the Milwaukee Brewers pitching rotation for the years to come.
Now Peralta's future is unknown. With at least seven pitchers vying for five starting spots this season, Peralta's job in the rotation is in jeopardy.
It begs the questions: Should the Brewers convert Peralta into a reliever?
There have been plenty of starters who flamed out and became successful relievers. Some notable players include Andrew Miller, Wade Davis and Zach Britton. Even former Brewers Wil Smith and Zach Duke are examples.
Although Peralta is only 27 years old and posted a 2.92 ERA in his final 10 starts of last season, after being demoted to the minor earlier in the year, his career numbers indicate he will never develop into anything more than an average back-of-the-rotation start.
Peralta has a four-pitch mix, featuring a four-seam fastball, slider, sinker and changeup. In the past, his changeup and sinker have gotten hammered, but his fastball-slider combination would be perfect for the bullpen.
Peralta's fastball consistently sits around 95 mph and even reached the high 90s in 2016. In short appearances, it wouldn't be out of the equation to see an uptick in fastball velocity.
At the major league level, starters need to have three effective offerings, which is something Peralta doesn't have. Moving Peralta to the pen is a place he can thrive, using his effective fastball-slider combination to attack hitters in shorter appearances.
While there is no guarantee he'd turn into the next super reliever, it's worth the risk for a guy who's floundering in the starting rotation.
Do you think the Brewers should move Wily Peralta to the bullpen? Leave your comments below.