Another Dombrowski making a name for himself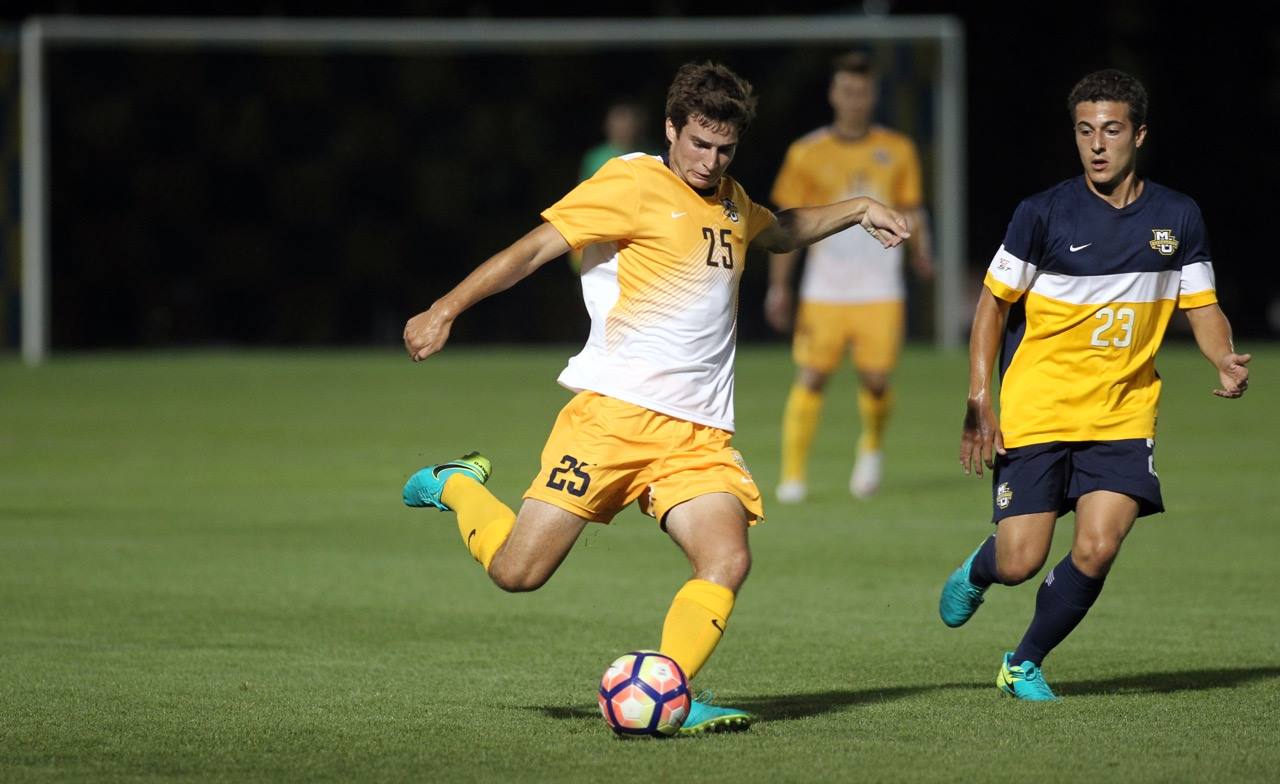 Milwaukee Panthers men's soccer fans reminisce back to the 2000s when the five Dombrowski brothers – Chad, Scott, Tighe, Neil and Zeke – wore the black and gold and led the program to heights it had never seen before. Playing under iconic head coach Louis Bennett, the Dombrowski brothers developed into some of the program's top players in recent memory.
A Dombrowski hasn't suited up for the Panthers since 2007, which feels like an eternity for soccer fans. But now nine years later, another Dombrowski brother is sprinting back and forth on a college pitch in the city of Milwaukee.
However, it isn't for the Panthers. Instead, it's for their cross-town rival – the Marquette Golden Eagles.
Freshman Cade Dombrowski is in his first season with the Golden Eagles and although he considered playing at UWM, he felt his best opportunity was playing under Bennett at Marquette.
"Since my brothers played for Coach Bennett, I knew him really well," Dombrowski said. "On my visits, I felt like we had trust with each other. That was really important to me that I could trust the coach. That really helped."
When Bennett began to recruit Dombrowski, it wasn't because of his last name. While he said that was an added bonus because he knew his upbringing and makeup, Dombrowski's skills and potential are what made Bennett eager to land the instate recruit.
"Cade never played with his brothers on the same thing so there was a difference," Bennett said. "I think that was the difference because he didn't have that direct connect that would make them similar.
"What he does have is the spirit. I think that's the main difference. His brothers grew up when the soccer landscape was completely different. Cade has made enough noise in this area for us to pay attention. I think Cade has huge, huge potential."
A midfielder at Whitnall High School, Dombrowski led the Falcons to their best record in school history at 20-3 during his senior season in 2016. He recorded 17 goals and 31 assists, as he led his squad to a sectional runner-up finish.
When going through the college recruiting process, Dombrowski leaned on his brothers for advice.
"My brothers gave me loads of advice," Dombrowski said. "They just told me it's a full-time job and that if you don't love the game and don't want to play then it's not for you. I knew right away I wanted to play college soccer. They said if you don't feel that, you won't love it."
In his first couple months at Marquette, Dombrowski is adjusting to college life as a student-athlete. He's enjoying the experience so far, even though he hasn't played in a game for the Golden Eagles yet.
Redshirting this season is a possibility for Dombrowski.
"That is situational," Bennett said of the chances Dombrowski redshirts. "It's how much more he can grasp and how well people do. He has to knock off some defenders or outside backs. I think it's possible for him to do either. I don't think either one is a probability yet."
In the meantime, Bennett would like to see Dombrowski continue to improve in the little nuances of the game, he said.
"I think one of the key factors is that we have to find one or two positions that Cade plays," Bennett said. "He's managed to play nearly every position in his career. I think it is the time for him to become a specialist. I think he is very open to that.
"Once we have two roles for him and focusing on that, I think he's going to be fantastic. We've already seen huge improvement since we've started working with him."
Dombrowski feels there are benefits to redshirting, especially having a year to adjust to the speed of the college game before seeing game action.
But one thing is for sure, whether it's this season or next, Dombrowski is ready whenever his named is called and is hoping he can make an impact for Marquette for the years to come.
"The most important thing for me would be to graduate from here with a high GPA," Dombrowski said. "Then, as for as athletics goes, winning a few Big East conference titles and making it to the tournament would be huge. Whether I play or whether I'm on the bench or whether I'm redshirting. As long as the team is successful."