Andrew Vaughn hopes to end Cal's postseason drought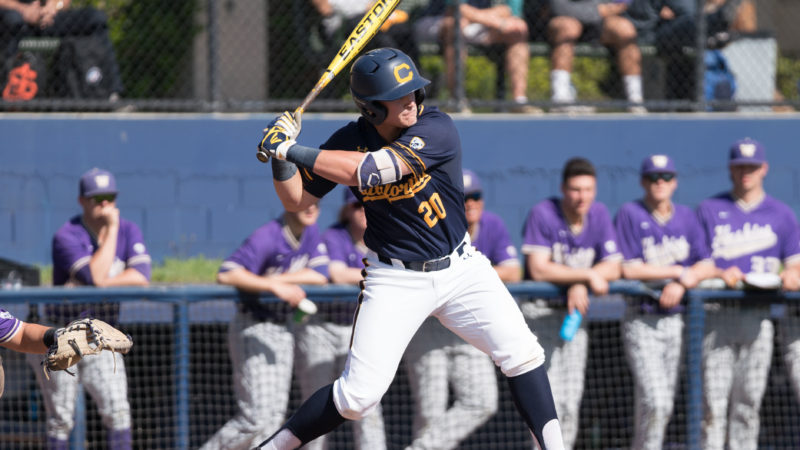 Andrew Vaughn had a decorated first two years at University of California, Berkeley, highlighted by winning the Golden Spikes Award as a sophomore last year. Despite his personal accolades, one goal has eluded the elite all-around first baseman – playing in the NCAA tournament.
Entering this season, professional scouts consider Vaughn as an option for the No. 1 overall pick in June's MLB draft. His array of skills, especially his ability at the plate, caused MLB.com to rank him as the third-best prospect in its initial draft rankings.
Vaughn understands the draft attention he will receive this year from major league teams. He's been under the microscope the last two years and has dealt with enormous amounts of attention due to his personal success. He's trying to ignore it as best as he can and focus on leading Cal to its first NCAA tournament appearance since 2015.
"It's great to have the opportunity to be where I am at," Vaughn said. "Ultimately, you have to just go out and play baseball and not worry about the draft or attention. You have to take it at what it is. It's a really cool experience, but for me, the biggest thing is going out on the field and being ready every day."
Vaughn entered college as a two-way player but pitched one inning last season after a difficult freshman campaign on the mound in 2017. Although he misses pitching, he said he'd rather focus solely on hitting.
In his first two years at Cal, Vaughn has been the top hitter in college baseball. Vaughn, a 6-foot, 214-pound right-handed hitter, posted a .349 batting average with 12 home runs and 50 RBIs in 218 at-bats to earn Pac-12 Freshman of the Year honors in 2017.
Vaughn displayed an even better approach at the plate last season. He hit .402 with 23 home runs and 63 RBIs in 199 at-bats. He showed remarkable plate discipline, drawing 44 walks compared to striking out 18 times.
His success as a sophomore earned him a plethora of accolades, including the Golden Spikes Award, which USA Baseball awards to the best amateur baseball player in the country each year. He was the first sophomore to receive the honor since Andrew Benintendi of Arkansas in 2015.
Vaughn is the best hitter in this year's draft class. Besides his advanced approach at the plate, Vaughn consistently barrels up baseballs and has above-average power to all fields.
"I would say from a young age it's always been see the ball, hit the ball," Vaughn said. "I allowed myself a better chance of that in college by adding the leg kick so I can see the pitch and recognize it. I try to do as much damage as I can."
He's also a reliable defensive player. After playing second base and shortstop in high school, Vaughn transitioned to first base his freshman year at Cal in 2017. His middle-infield skills aided in his adjustment to a new position, as he has a strong arm and is a reliable fielder.
"The biggest transition was getting used to the footwork around the bag and not having to look at it every time you run there to know where you are putting your foot," Vaughn said. "Just getting comfortable landing on the bag and being safe around it has been the biggest adjustment."
In the offseason, Vaughn dedicated time to adding strength to his frame while refining his skills on the field. He's confident in his abilities and is trying not to let the success of last year sway his mindset as he enters this season.
"The biggest goal is to go out and win and get to a regional," Vaughn said. "I think that's the biggest goal I have personally and as a team. Once you go out there and are winning, everything will fall into place. Numbers will be numbers. I don't really like to worry about those."
(Photo of Andrew Vaughn courtesy of Peter Fukumae/Cal athletics)
You can find more MLB draft coverage here.
Dan Zielinski III has covered the MLB draft for four years. He's interviewed 133 of the top draft prospects in that period, including three No. 1 overall picks. Multiple publications, including Baseball America, USA Today and The Arizona Republic, have quoted his work, while he's appeared on radio stations as a "MLB draft expert."