Adam Kloffenstein focused on attending TCU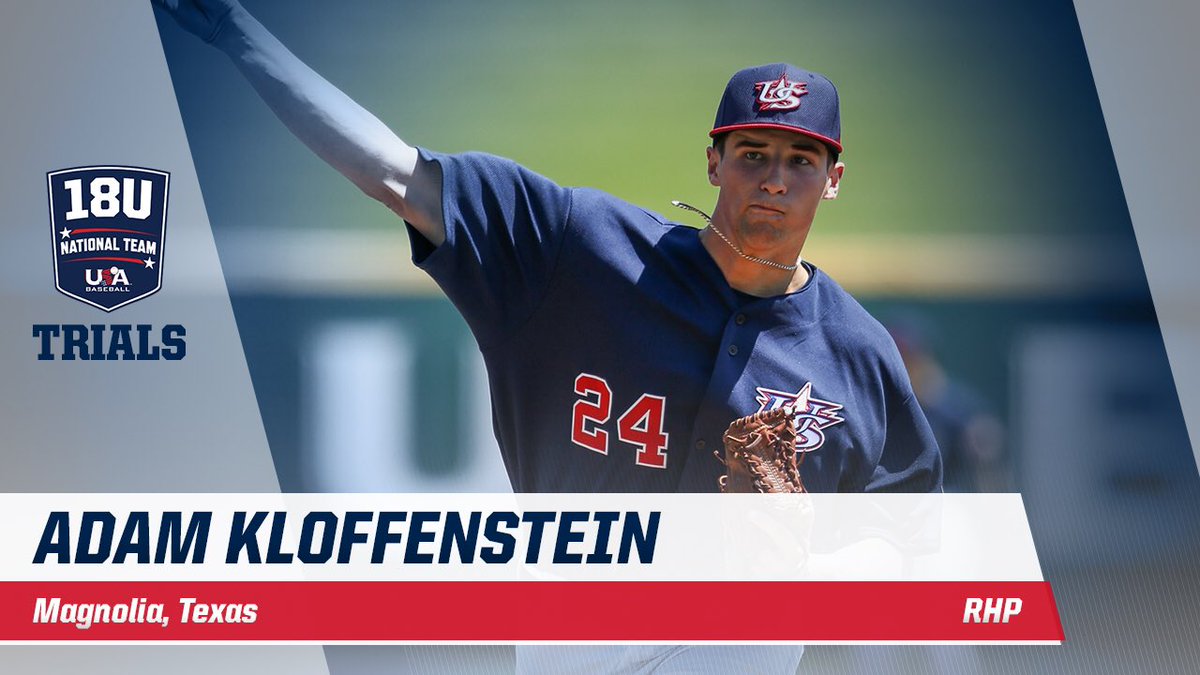 Adam Kloffenstein is unlike most top high school baseball prospects.
Each year, hundreds of high school baseball players are selected in the MLB First-Year Player Draft. Many more prep players dream of hearing their name called.
But for Kloffenstein, he's content with attending Texas Christian University, after he graduates from high school in spring 2018, despite Baseball America ranking him as the 35th-best prep prospect in the 2018 MLB Draft class.
"Do I want to play major leagues baseball someday? Of course," he said. "I want to make sure I do everything the right way and do the right steps to get there. I think that it would have to be something really dramatic and really extraordinary for me to pass on TCU.
"I think it's a cool opportunity that I've been dealt. I don't want to mess that up. If I would go and pass on TCU, I don't want to be at home at 21, 22 years old saying, 'Man, what would've happen if I went to college? How good could I've been?'"
Kloffenstein grew up wanting to attend the University of Texas. But after evaluating his options, which included Texas A&M, he wanted to play for a program that's a legitimate national championship contender.
TCU has made four straight trips to the College World Series. Kloffenstein also liked the university and atmosphere on campus.
"It's a smaller campus, and for an athlete, I think that's better," he said. "You're going to be gone during the season and the student to teacher ratio is 13-to-1 compared to some schools where it's like 50-to-1. I liked that."
A 6-foot-5, 220-pound right-handed prep pitcher from Magnolia, Texas, Kloffenstein has a five-pitch mix. He throws a four-seam fastball, two-seam fastball, changeup, curveball and cutter. His fastball sits in the mid-90s.
He's worked with respected pitching coach David Evans since he was 13 years old. Evans has worked with many pitchers over the years, including highly-touted draft prospect Tyler Kolek and Shane Baez.
Evans taught Kloffenstein how to throw his two breaking pitches. Kloffenstein started throwing his cutter before last season and it's already turning into one of his best offerings.
"I can control it just as about as good as my fastball," said Kloffenstein about his cutter. "I can throw it in any count. That has kind of been my go to recently. It's starting to become more of a slider, which he told me it would do as I got more comfortable throwing it."
Kloffenstein, who participated on the showcase circuit and nearly made the Team USA roster last summer, prides himself on being a complete pitcher.
"I know that's what's going to get me to the next level," he said. "There's plenty of people who throw 98 miles per hour. I want to be a guy who can pitch and do all of the above. That's what I've been working towards for a long time, and I really credit my dad for that."
Kloffenstein is already preparing for his senior season of high school baseball for Magnolia High next spring. He had his first bullpen session on Sept. 17 and will pitch for his high school team in the Texas Association of Sports Officials (TASO) Tournament on Oct. 14.
After the tournament, he will space out his throwing, before ramping it back up after the holidays in preparation for the high school season.
"Last year, I had a 0.49 ERA," Kloffenstein said. "I gave up four earned runs in my season. I gave two up on one hit, and the four runs that scored, all of them that scored got on base because of a walk.
"My main goal this season is to lower my walks and to not give up any earned runs this season. I know that's a tall task, but there's nothing wrong with having goals."
Find more 2018 MLB Draft profiles here.
READ: 2017 MLB Draft: Profiles on top prospects
READ: The3rdManIn.com's MLB Draft prospect history